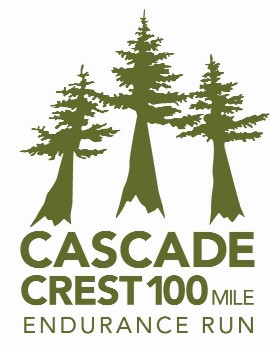 Event Name: Cascade Crest 100 Mile Endurance Run
Event Location: Easton, WA
Event Date: August 24, 2019
Event Website: www.cascadecrest100.com
Event Tagline: Tall Trees. Tough Trails.
From the Website: Cascade Crest is a challenging 100 mile trail run through the Central Cascades of Washington State. The course currently runs as a clockwise loop from the Easton Fire Station. The race starts is 9:00 am Saturday morning and there is an overall time limit of 34 hours.
?? Gear List

?

?
---
Ultramarathons are no where near as difficult to pack for as say a mountaineering excursion up Mount Rainier, a backpacking trip for for days through The Enchantments, or a Death Race, but they do still require some specific gear to make things go smoothly. A few key items include extra socks, shorts, shirts, and shoes. Having spares of everything is essential, you never know what could happen on course. Since we did do some car camping, sleeping and camping gear are included in this list.
Clothes

2 Patagonia Capilene Shirt
1 Patagonia Capilene Hoodie
1 Kuhl SS Valiant Shirt
2 Lululemon Surge Short
1 Pair of Altra Lone Peak 4.0 Trail Shoes
2 Pairs of Cheap Sunglasses

Vest
Sleep System
Cooking System
Water System
Navigation System

goTenna Mesh – Text Relay Device

Hiking/Camping Equipment
Electronic Equipment
?? Ultra Food Menu

?

?
---
At the start of the race, my plan was to start with staying keto for the first 30-50 miles and then make the switch to sugar and carbs to get the rocket fuel effect. Unfortunately my stomach did not show up to participate in the event and I found myself in quite a bit of pain that led me to swap to normal ultra goodies within the first 20 miles. Even after I made the switch my stomach still took forever to catch up. Thankfully there was tons of Ginger Ale available along the way, so I drank that every chance I got along with taking tums every so often. Below you'll find just a sample of the foods I ate and drank.
Morning Coffee Made with

SimplyOrganic Coconut Oil Individual Serving Packets
Individually Vaccum Sealed Tablespoons of Kerrygold Butter

5x Eggs for Breakfast
4x Large Avocados
Trader Joe's Roasted Nut Mix

Turkey & Avocado Wraps

Cheese Quesadilla

Bacon

Chicken Noodle Soup

Bacon Avocado Quesadilla

Beer
9x Garlic Dill Pickles
Dried Mangos

Mountain Dew (my favorite)

Coca-Cola

Hot Sipping Chocolate

Coffee

Ginger Ale (this helped my stomach)

Swedish Fish

Peanut Butter and Jelly Quarter Sandwiches

Cheez-its

Oreos

Sour Gummy Worms

Pretzels

Pickles
?? My 100-Mile Adventure

?

?
---
It's pitch black everywhere around me except for where my headlamp points and the two tiny beams of light I occasionally see coming toward me when I check my six. Here I am, 52 miles into the Cascade Crest 100 Mile Endurance Run and I am running down this long, dark, wide-open tunnel and I am finally starting to feel some semblance of normal. Only, now instead of losing my stomach to gastro issues (like I have been the past 45 miles so), I'm about to lose it to the sheer creepiness of this 2.5 mile stretch of the Snoqualmie Tunnel that I found myself running under when out of nowhere I saw what looked like the skeletal remains of a human tucked away in one of the many outcroppings in the tunnel.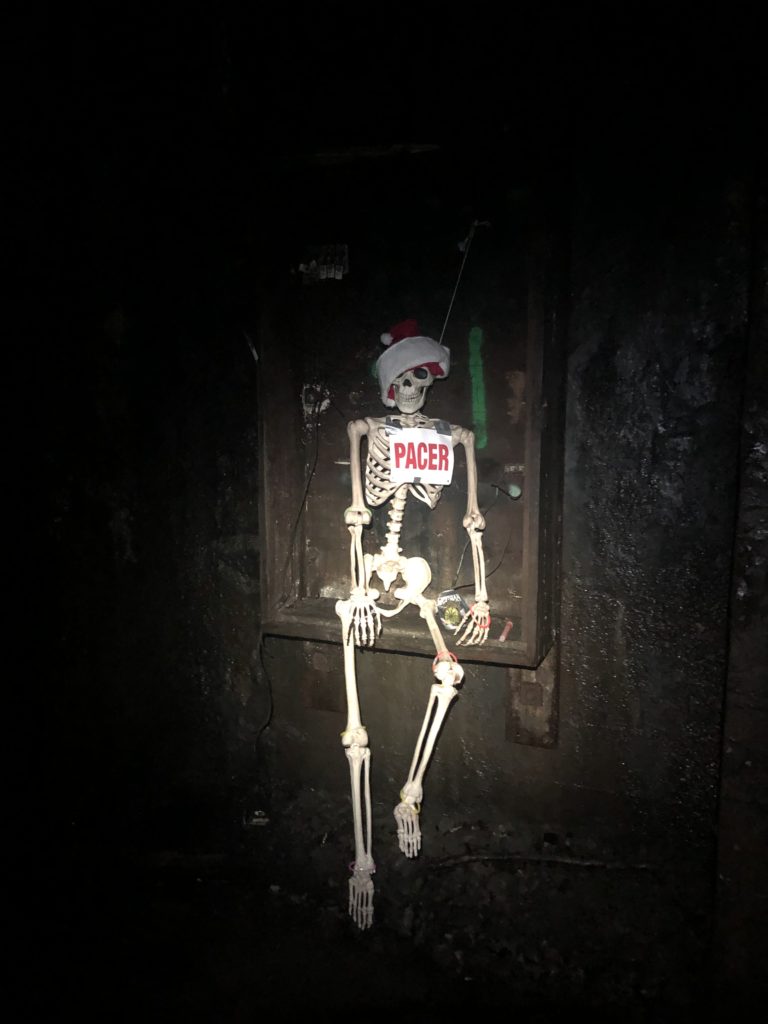 As a joke, the race organizers attached pacer bibs to a couple of Halloween skeletons and tucked them about halfway through the tunnel, presumably to give us false hope that the darkness was almost over. It wasn't. After running past these two creepy "pacers" that were lost to the tunnel, I continue my shuffle down the tunnel, avoiding all the drops of water that pitter-patter on the hard-packed surface below my feet. This tunnel was the only way for us to get to where we needed to be for the second half of the race, safely. 
As I ran down the dark corridor, in front of me, my breath hovered and billowed more and more with each breath as my face pushed it forward, it was a strange phenomenon to behold. With nowhere to go, your breath would travel with you for several hundred steps at a time before dissipating, and a new breath cloud would start to form. It was strange and amused for a little bit of the time I spent in the tunnel. When I finally emerged from the tunnel, a massive wave of relief swept over me. That was one of the most sketchtastic happenings I've experienced at an event. The mental gymnastics it forced my mind to go through, it was something else, but that wasn't the only battle I had to fight during my second attempt at completing a 100-mile race, my stomach was the biggest battle of all. It wasn't my feet, or my mental game, or my physical ability, or my quads or my knees or any of that. Heck, when I reached the Hyak Aid Station at Mile 54.3 my body was feeling good, it was just my stomach that wasn't cooperating with what the rest of my body was trying to accomplish. It wanted nothing to do with food. It felt bloated. It refused to eat the first 10 miles. I forced a bite or two down during the first tenth of the race, but with how many calories I had been burning, it was almost as if I had not eaten. 
Enduring 100 Miles – A Modern Man's Journey
Although this race left me feeling like I had a lot more to give, both my partner Erinn and I came to the same conclusion that the stomach pain may have slowed me down for most of the first half of the race but it probably left my muscles primed to successfully finish my first 100 Mile race without blowing myself up because my EGO or something like that got in the way. Overall, I was quite pleased with this race and feel that I ran the best race I could given my circumstances. The entire run took you through some incredible landscapes, through varied terrain, and left my soul feeling completely full.
So, you're probably wondering more about this race, what is this 100 mile endurance run, how do you sign up for it, what are the aid stations like, is there cool swag? All great questions that I'm going to break down for ya. 
The race consisted of 100 miles of running up and down a range of mountains around two lakes, Kachess Lake and Keechelus Lake, all in the Cascade Mountains on the eastern side of Snoqualmie Pass starting in Easton, WA. The course runs clockwise and has a cumulative 23,000'+ of elevation gain with the lowest point being where we start the race in Easton at 2,140′ above sea level and the highest point which comes in the last quarter of the race atop Thorpe Mountain at 5,840′. With all that climbing my legs were in for some work. 
When it came to the the type of terrain or surface that we ran on and given that the race takes place in the Cascade Mountains, 70% of the race took place on trails. For a good 26% of the event we had to stick to forest service roads and my least favorite portion were the four miles total that we had to run on paved roads. 
Seventeen aid stations were deployed on the course positioned approximately 5-7 miles from one to the next. This provided all of us racers with plenty of opportunities to fuel ourselves along the way. Knowing you only ever had to run 5-7 miles before you were greeted by a group of humans supporting your efforts was a warm and welcoming feeling to have in the back of your head throughout the event. Focusing on these small segments made the massive task ahead seem like it was that much more manageable. Like most things in life, it's best to bite off little pieces at a time.
Thankfully, with all the hikes I have been completing this year combined my weekly runs, I was able to enter the race feeling somewhat prepared. Deep down, however, I knew I was not nearly as ready as I was when I ran the Georgia Death Race with a torn labrum in my right hip. It didn't bother me; I accepted my reality. Since October 26, 2018, I have been recovering from the surgery I had to fix the labrum in my right hip. The process has been very long, but I have been diligent, and it has been one heck of a ride to get to here. Now that I've had the surgery and gone through this whole process, I'm so glad I did. I feel better than I have in the past four and a half years. 
Going into this race, I had one goal. Finish any 100 Mile Mountain Endurance Run after my surgery that would qualify me for Western States, the self-proclaimed world's oldest 100-mile trail race. The Cascade Crest 100 Mile Endurance Run was one of the local races that fit that bill. As it turns out just like Western States, this race is also a lottery-based system. More and more races are using these lotteries to limit the impact racers have on these preserved environments. 
If you're like me, what happens is you will enter the lottery not expecting to get in, I didn't expect to get into the Georgia Death Race and I definitely didn't expect to get into this race in my first year. Once you sign up, you forget about it and go on about your daily business until it's the day of the lottery drawing. Then, if you are selected, what happens is you wake up one day as I did and you find yourself with an email from Ultrasignup.com. When you open the email it tells you that you're registered for the race, it also confirms your payment for the $300 registration fee that you committed yourself to those 6-9 months prior to this when you first thought this whole run one 100-mile run just to get into another 100-mile run thing was a good idea. 
Anyways, once you're in, you still have some work to do. You can't just show up on race day, and go. Like Western States, Cascade Crest has its own qualifier:
"Entrants must complete an organized trail 50-miler or longer between January 1st, 2019 and July 31st, 2019, OR have completed an organized trail 100-miler ever. There should be no ambiguity that your qualifier is a "trail" run. Cascade Crest 100 is not easy… prepare accordingly."
On top of that, all runners are also required to complete eight hours of trail work. So ya, once you're in, not only are you financially giving back to the trail systems, you're physically getting out there and taking care of the environment, it's a pretty great thing that more and more races are doing. To get my requirement fulfilled, I went to Frog Mountain a few weeks back and I just made the deadline! 
Even though there are a few requirements and other hoops to jump through, I personally believe that they are all well worth it. By doing this you get access to an incredibly well organized 100-mile run through the Cascades among some of the finest humans you'll meet on this planet. From the racers, to the volunteers, to the crew and the PCT Angels, there were so many unbelievably awesome people to interact with. It was awesome.
Another exciting factoid about this race is that is 100% volunteer-based, no-one gets paid. All of the proceeds go to organizing the event, feeding the runners, providing the swag, and everything else goes to the Easton Fire Department which acts as the home base as well as the start and finish, to the Washington Trails Association, and to the Pacific Crest Trail Association. That's pretty awesome.
When it came to keeping us fed, the race hosted some killer aid stations.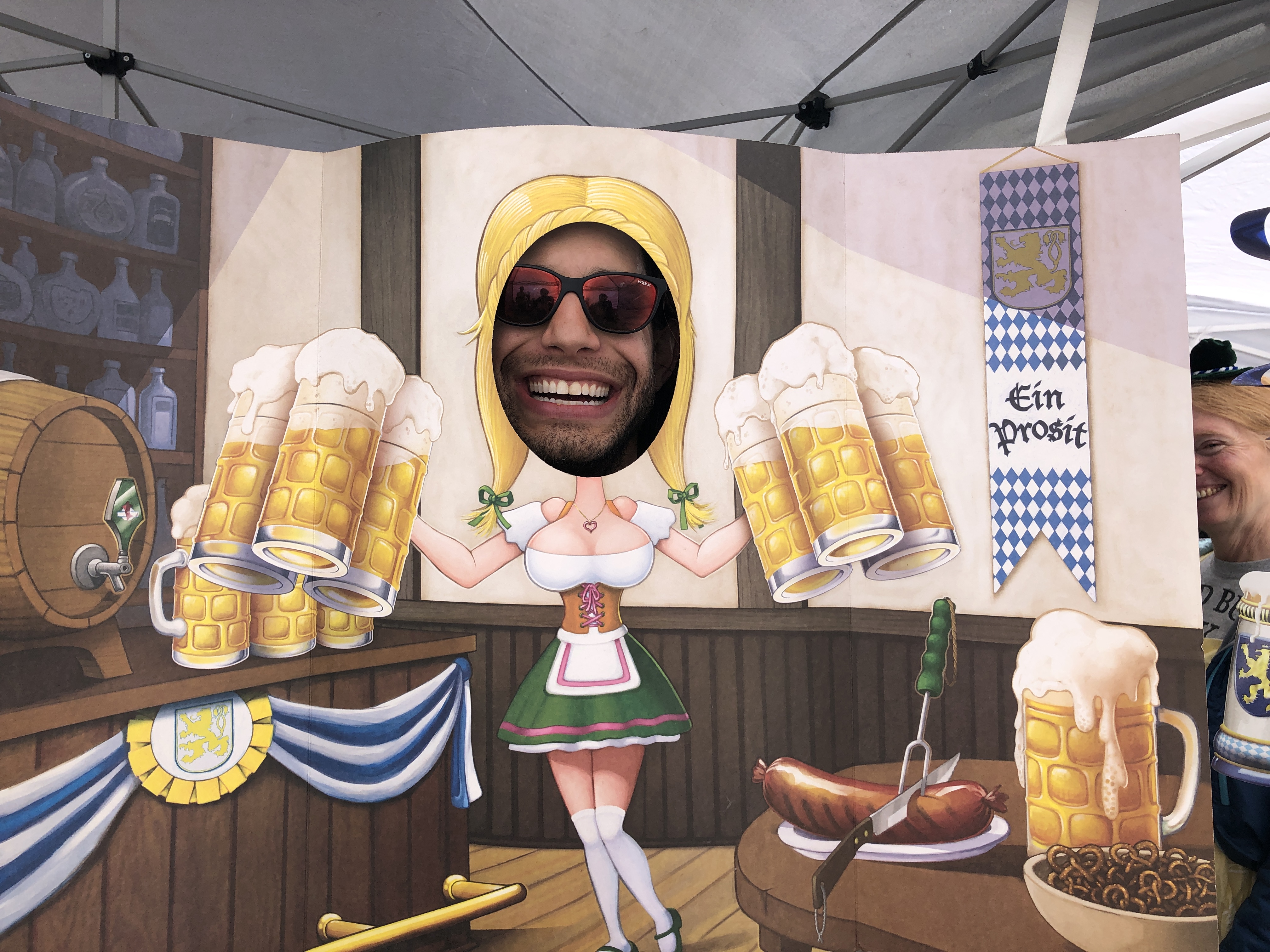 Aid Stations – Is This Endurance Running or Eating? 
Let me just say, the Cascade Crest 100 is one of those races that over-delivers in every area, especially when it comes to their aid stations. Okay, so there were a total of 17 aid stations on the course plus the finish line. Of these 17 aid stations, five of them allowed crew access. While that may not seem like many, the reality is access is super limited in these mountains and drive time is a factor. Those five aid stations were the ones I looked forward to most of course. My adventure partner, Erinn, crewed me throughout the event and provided all the support a man could ask for during a race of this magnitude. 
Most of these aid stations had all kinds of snacks; there were a half dozen or more that had hot food available as well. Here's a list of things you could find at your typical aid station.
Swedish Fish

Peanut Butter and Jelly Quarter Sandwiches

Cheez-its

Oreos

Fig Bars

Gu Octane Recovery Drink

M&Ms

Sour Gummy Worms

Crackers

Pretzels

Pickles
Specialty Items that only appeared at select aid stations included things like:
Turkey & Avocado Wraps

Cheese Quesadilla

Bacon

Soups

Vegetable Soup

Chicken Noodle Soup

Ramen

Potato Soup

Pierogis

Bacon Avocado Quesadilla

Beer
And to keep you hydrated, every aid station welcomes you with a volunteer asking what you want your water bottles or hydration bladders filled with, high-quality h2o or some electrolyte infused water by their main sponsor Gu. I think they were filling it with Roctane, but I always stuck to the sea and used my own Nuun tablets to get my electrolytes. I never mess with the products I haven't used before during a race. Keep the experimentation for training. On top of water and electrolyte infused water, they also had a variety of sodas and other drinks available quite often. Some of the beverage choices included:
Mountain Dew (my favorite)

Coca-Cola

Hot Sipping Chocolate

Coffee

Ginger Ale (this helped my stomach)
We were tested on how long we could run and how well we can eat a ton of carbs and sugar. It's like a long-distance eating contest; the person who can eat the best has the highest chance of finishing. And that's the ticket. I struggled the entire first half to eat, but once my stomach decided to cooperate, everything else just clicked. At the end of the day. I was able to run a lot of the second half of the race and often came into the aid stations a lot faster than anyone the volunteers had seen in hours. 
I crossed the finish line with only a 1hr and 14 minutes to spare before the time cut-off. It was tough, and I know I can put on much better performance, but at the end of the day, I'm just happy to have had the experience and more so the opportunity to have had the experience. It's one of those experience that might only come once in a lifetime. I'm super stoked I got to check this one off my bucket list. It certainly feels like an achievement has been unlocked, my friend Joe said it best, "welcome to the 100-mile club". It feels good to be here. I finally got myself a belt buckle. 
Swagtastic Race Goodies
A few words about the swag, when I first paid the $300 fee, I was a bit sticker shocked. After all, I paid similar charges for the Death Race, and that race was much longer and had a lot more moving parts. For a running event, this seemed high, at least to me. Well as it turns out, not only are you fed like a king/queen, but you're also given a lot of really lovely swag. At the start of the event, you're picking up your bib and spot tracker along with a swag bag that consists of the following:
Cascade Crest 100 Reusable Bag

Cascade Crest 100 Coffee Mug

Cascade Crest 100 Tech Shirt

Cascade Crest 100 Branded Drymax Socks
And then of course if you finish the race you also received: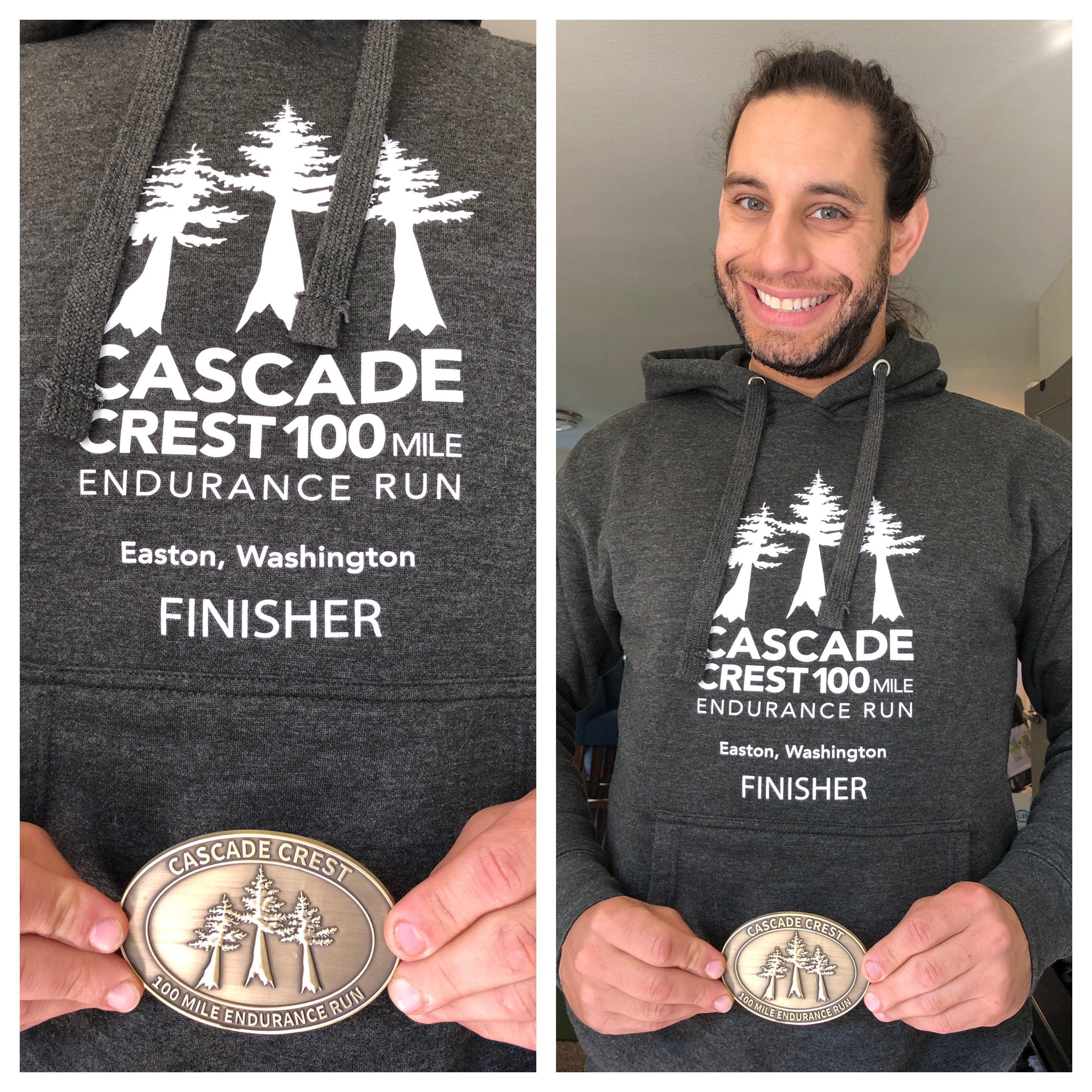 Cascade Crest 100 Hoodie

Cascade Crest 100 Belt Buckle
With all this swag, I was reasonably impressed. The event was well organized and in the end it definitely felt worth it, especially knowing all the money benefits the trails in this beautiful state that I love so dearly, my home, here in the State of Washington.
If you're looking to get into races like Western States, Hardrock 100, and the like, let me suggest the Cascade Crest 100 Mile Endurance Run as the perfect qualifier to get you going. It covers tons of wilderness, exposes you to massive climbs, ridge traverses, and it serves one heck of a good cause too. 
Maybe you already have done the CC100, if you have or if you plan to, tell me about it in the comments. I'd love to hear about your experience and or training. 
Event Ratings
---
Location – Rating 5/5

Located in the beautiful Cascade Mountains just east of Snoqaulmie Pass, this venue takes you across some beautiful landscapes, over some steep mountains, and delivers unbelievable panoramas several times while you explore the course.

Course & Markings – Rating 4/5

The course was unbelievable, the 26% of course that was on forest service roads wasn't that bad though it did sometimes take you away from all the beauty when you focused on the micro-level where you were. As far as markings were concerned, overall they were pretty obvious, though there were several spots that a few of us found ourselves doubling back and checking that we were infact on the right path. One time, we were thankful we did, as we went 400 ft off course.  My recommendation to the crew would be to add a few more flags at turns that aren't clearly defined, otherwise fantastic job marking 100 miles of course!

Parking – Ratings 5/5

The team did an incredible job of parking some 100+ vehicles the morning of the race. As far as I know, most parking at aid stations was simply along forest service roads, there's not much expectation for what you're gonna get as far as parking goes on course.

Aid Stations – Rating 5/5 

We already covered this, the aid stations were top-notch. Way to go. Keep that good shit up!

Swag  – Rating 5/5 

Another thing we've already covered, killed it. Loved all my swag and am stoked to rep it.

Overall – Rating 5/5 

This was everything I wanted for my first 100-mile finish. Beautiful trails, local to my home (only 1.5hr drive), unbelievable people, staff, crew, volunteers, and runners, and the most delectible aid stations. I loved everything about this race, even the 50 miles of stomach pains. All of it was absolutely wonderful and I would highly recommend attempting to get into the Cascade Crest 100 if you're looking for a challenging, mountainous 100-mile endurance run.
---
BOTTOM LINE:
This is a great 100-mile endurance run, it gets you qualified for some of the toughest ultra marathons, it challenges you, feeds your soul, and delivers an unbelievable experience. All of that and everything you pay goes toward helping three awesome organizations, the Easton Fire Department, Washington Trails Association, and the Pacific Crest Trail Association. If you are looking for a fun and challenging 100-miler, enter the lottery next year. You won't regret it.
???‍♂️ My Strava Data

??‍♂️

?
---
This is what my Cascade Crest 100 Mile Run looks like from the perspective of solely my Strava Data. I set my Suunto Spartan Ultra to "Okay" GPS Strength which resulted in my data being off the entire run but at least my battery had over 50% when the nearly 33 hours of adventure came to an end, right? I think next time I'll use the "Good" setting instead.
Have you ran a 100 Mile Run or the Cascade Crest 100?
Let me know what your experience was like, I'd love to hear it!