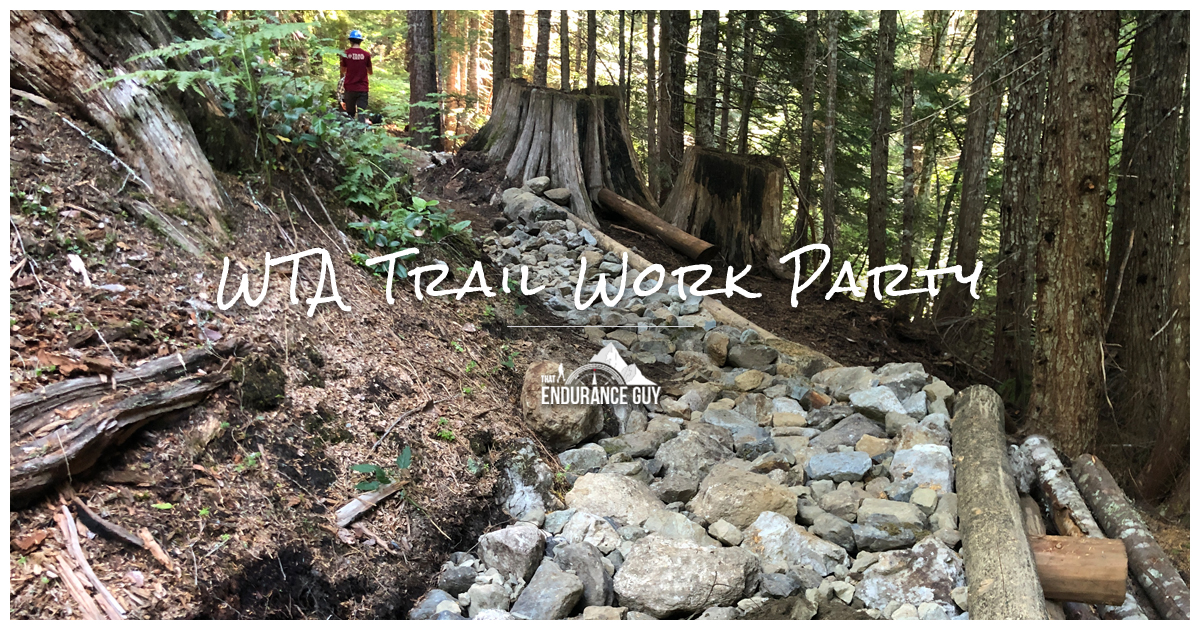 If you are like me and enjoy running on your local trails, you probably often find yourself amazed at how well maintained the path you run on are. Of course, this all depends on where you live in the world, as I've discovered from traveling to almost all of the states in the United States, every state is different. Some invest more heavily in outdoor recreation than others. If you're fortunate and you live in a state like Washington where they put a lot of care into the trails and outdoor spaces that we all happily enjoy, some organizations put a lot of effort into maintaining these spaces and guess what? You can volunteer to be a part of the ongoing maintenance of your states trail systems.
Since moving to Washington state, I've been exploring as many of the trails, mountains, and outdoor spaces as I possibly can. This state has an abundance of outdoor areas and trails, and someone has to maintain them.
As I have been training for my Cascade Crest 100 attempt, I have been putting off my mandatory volunteer (funny concept, right) trail work for the race. There are a lot of ultra runs that require you to volunteer a day of trail service to give back to the community. It's a pretty awesome concept, and I'm happy I was required to do this. It was volunteer or pay an additional $150 fee, which I have no interest in paying.
It's pretty easy to find these trail work parties. For the work party, I joined, I went to the website for the Washington Trails Association, which is WTA.org, and I searched under "Get Involved" and then "Volunteer." There I found a link to "Find a Trail Work Party." Since time was the most crucial factor, I looked for the work party that was taking place the soonest, and I found a trail work party titled "Frog Mountain."
How to Find a Trail Work Party to Join
Go to Google.com
Search for trail work party in [insert your city and/or state]
Follow the search results to find organizations in your state, typically .org sites, that offer these trail work parties
Follow the directions on whatever work party you find, you'll probably have to sign up or register in some way
Once you're excited you can prepare for your trail work party by reading the gear list and everything else they provide in their directions to you
Remember to bring food and water, you'll be working to build something beautiful, you'll need your energy sources
Here is what the Washington Trails Association website tells you about a typical work party like this one at Frog Mountain. I thought it was pretty fantastic that this would be to create a brand new multi-use trail for the Skykomish USFS.
FROM WTA.ORG —
Overview
Let's make some history! Come help us make a new trail for the Skykomish USFS near the Beckler River.
About the Area
Frog Mountain will be a four mile trail that will give towering views over the North Fork Skykomish and the Beckler River area of Skykomish.
What to Expect
We'll have fun, work hard and make a difference! No experience is necessary.
Project Description
We will be constructing new trail. This will include activities such as moving materials with buckets, removing vegetation, digging large amounts of soil, and constructing minor structures
Hiking Information
We will hike approximately two miles round trip to the work site and back over rough terrain and a moderate climb.
Schedule
* 8:30 AM: Be ready to sign in and meet the crew, rain or shine
* 8:35 AM: Gather for a safety briefing, then hike to the project site
* Morning: Work at your own pace, and take breaks throughout the day
* 12:00 PM: Lunch on the trail
* Afternoon: Consider trying a new task before wrapping up the day's work
* 3:30 PM: Sign out after enjoying refreshments at the trailhead
For safety reasons, arriving late or leaving early is not allowed.
Planning Information
Get ready for a great day outside!
What it Takes to Do This Work Party
* No experience is necessary—just bring a great attitude for working with a team! WTA provides the training and tools you need
* Expect to be physically active at your own pace for up to 6 hours on uneven terrain
* Recommended for ages 10 and older; under 14 must be accompanied by an adult and a parental consent form must be signed for anyone under 18
What to Wear
* Boots
* Long pants
* Work gloves
* Long-sleeved shirt recommended
* Eye protection recommended (glasses, sunglasses or safety glasses)
A hard hat will be provided by WTA. For safety reasons, shorts and sneakers are not allowed.
What to Bring
* Lunch and plenty of water
* Rain jacket and pants
* Extra warm clothing in case of wet or cold weather
* A pack to carry your personal gear
* A sense of fun and adventure for learning new skills and meeting great people!
Firearms and weapons are not allowed.
At the trail work party, we spent the day work on a small section of the trail that was being built up. When I arrived, there was a new crib that was built to hold rocks and develop and elevate the path to flow at a steady grade over this massive embedded boulder that shaped this part of the mountain. We need to level it and fill it with rocks from the size of softballs down to pebbled size soil and gravel.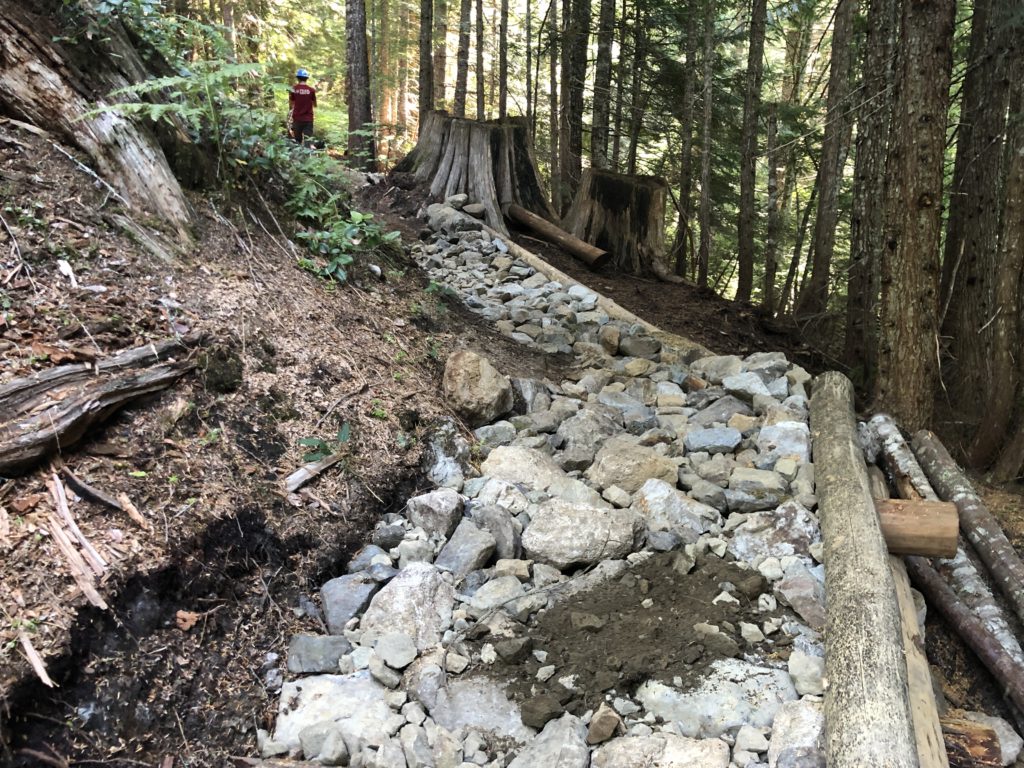 For the majority of my day, I had my way with my version of the ol bucket brigade that I used to do at Spartan Races. For the first few hours, I gathered large stones and rocks mostly golf ball sized to softball and football-size even, and I carried them in a bucket up and down this small stretch of trail, gaining and descending approving 15′ each way. It was a fun little workout and felt like it would be beneficial at the end of the day. In addition to lugging buckets around, I also help dig up some of the filler with a McLeod tool, and a Field Hoe. Learning how to build a trail is something I never thought I'd do, yet now I want more. It's funny how years ago I paid to do stuff like this at the Death Race, and now I'm volunteering to do something less painful, yet in many ways equally rewarding.
It was a fun experience working with all these veteran WTA volunteers, some of these wise men have been at it for over 20 years and had well over 400 volunteer days! That's incredible, these guys have volunteered more than a year of their long lives to building these trails. That's something to aspire to as a life goal. I also found out that if you do five volunteer shifts, they give you a green hardhat. I now have two down, so I'm going to be booking some more at Frog Mountain so I can earn my safety helmet. I've decided it'd be cool to help build this trail, and then when it's done, set the first fastest trail time on it.
If you love running trails, I urge you to consider giving back and helping to build these trails. It's a very fulfilling and circular experience. We take, and we give. That's the circle of life.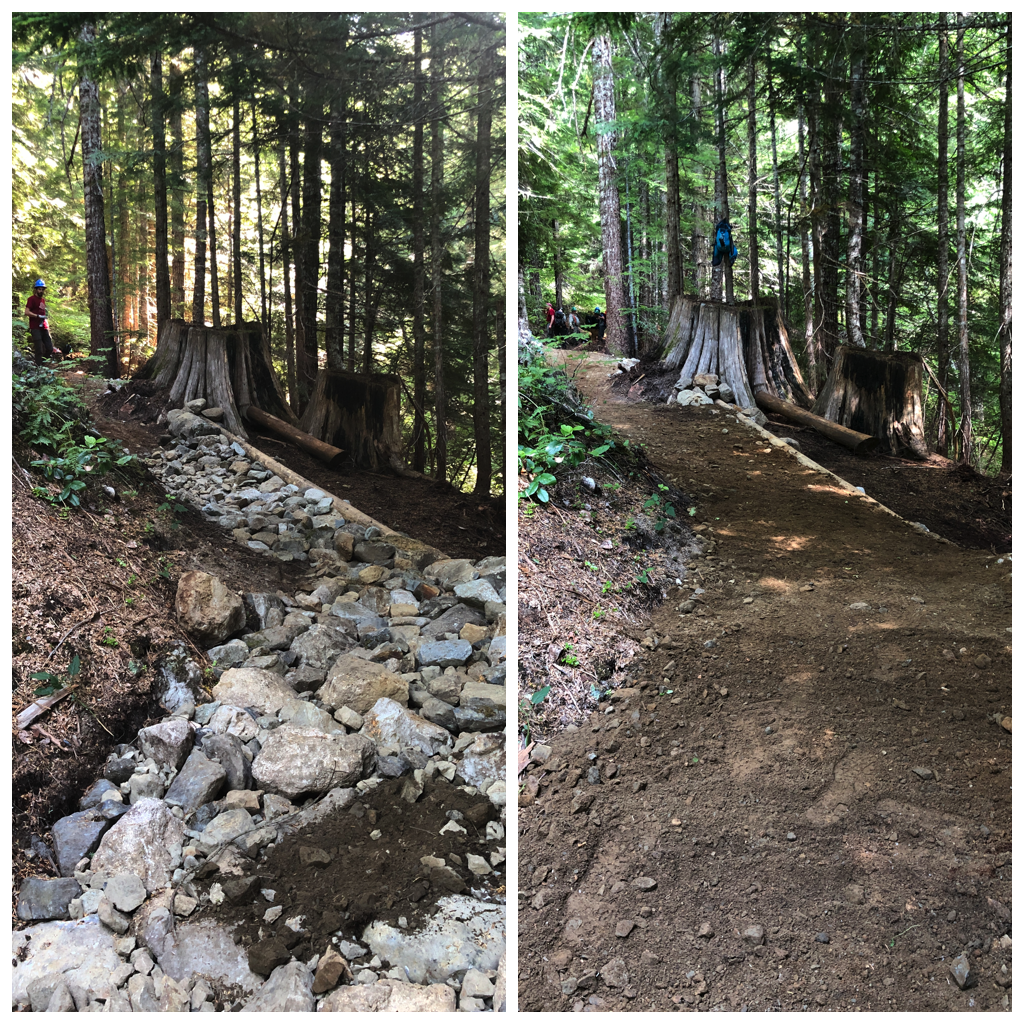 At the end of the day, we finished a significant section of trail, and our crew leader was stoked that he would be able to move on sooner than he expected his teams would be able to finish. In that small area that I was confined to working, I racked up a total of 3.94  miles and 413′ of elevation gain. Not a bad day considering all the buckets I carried. It was the perfect training day, and I was able to give back at the same time. Now that's a solid adventure!
Before the end of the day I submitted my form to Cascade Crest 100, it's officially official. I'm all in. Only a few weeks remain.