Location: Central Cascades – Leavenworth Area
Required Pass(es): Northwest Forest Pass, Hiking Permit or Camping Permit (Lottery Win Required)
One of the most amazing adventures of my life and it all took place right here in my beautiful new home state of Washington.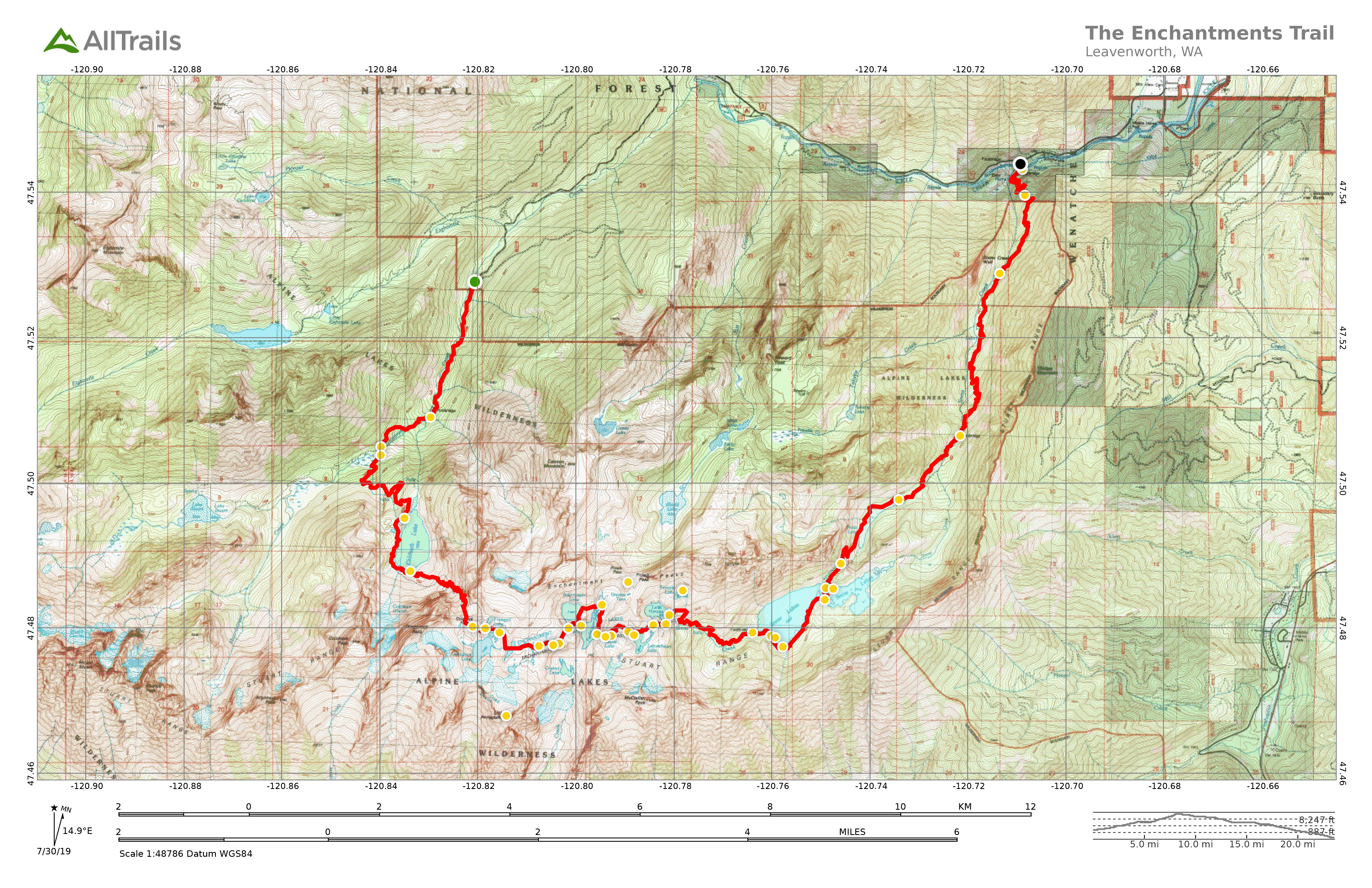 The standard Enchantments thru hike
Colchuck Up Aasgard's Pass to Perfection Lake
Perfection Lake to Dragontail Peak to Little Annapurna to McClellan Peak Loop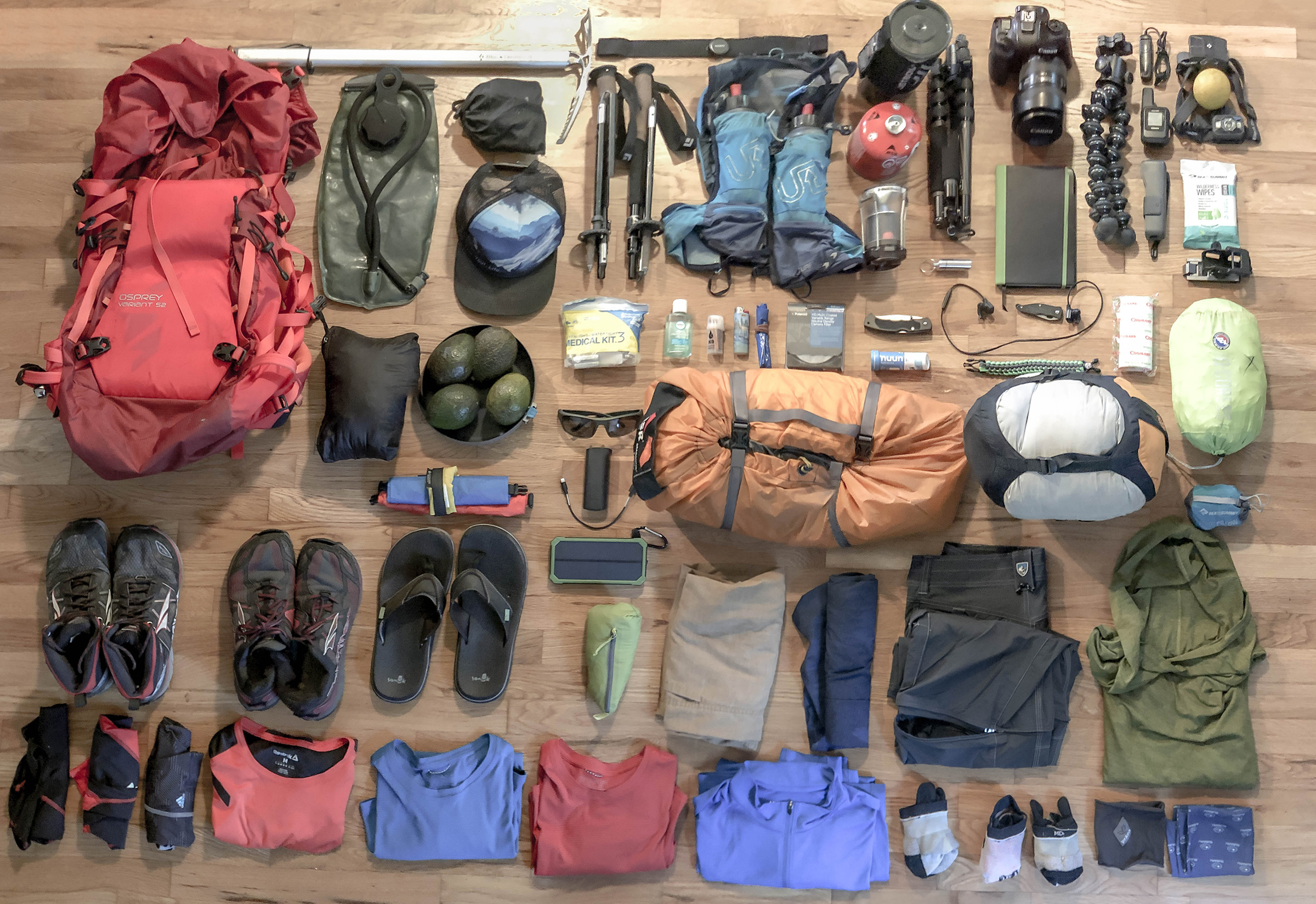 ?? Gear List

?

?
---
When it comes to packing gear for a backpacking trip, I typically try to pack as light as possibly but usually my trips are only two nights max so with this trip possibly going as many as 4 nights I wanted to make sure I had enough and not too little, though after all is said and done, I probably could have packed less. To make the most of this trip, and to capture all the unbelievable beauty I knew I was about to see I opted to carry a fair amount of camera equipment, batteries, and chargers, but I did my best to be smart about what I actually brought, all-in-all, I think I did pretty good. My pack was without question the heaviest, but I was okay with it. Carrying 45-55lbs on my back for a few days at a time is nothing new to me. I've listed everything I packed here, and below this section I've broken down my entire meal plan for this excursion. I did not weigh everything but my estimate is 45-55lbs in total. The next trip (coming up soon) I'll verify weight with a similar setup.
Clothes

2 Adidas performance boxer briefs
2 Patagonia Capilene Shirt
1 Patagonia Capilene Hoodie
2 Lululemon Surge Short
1 Prana Brion Shorts
1 Kuhl Convertible Pants
2 Pairs of Cheap Sunglasses

Pack(s)
Sleep System
Cooking System
Water System(s)
Navigation System
Hiking/Camping Equipment
Photography Equipment
?? Keto Backpacking Menu

?

?
---
With a keto meal plan, I tried to keep it as simple as possible. I utilized cured meats and cheese, mostly. I figured I'd be able to make all this fresh food as opposed to the freeze-dried food that is hikers eat on backpacking trips. To keep things fresh for as long as possible, I froze everything that I could freeze before heading out. For my butter that I used for my morning coffee, I used my Food Saver to vacuum seal each tablespoon of butter and then froze all of them.
When we made it up it the Core Zone I was able to stash my bear cannister in the snow, typically between a rock and some overhanging snow patch. Stashing my cannister this way kept my food cold for the entire trip almost, only on the last day I had to ditch a sausage that had become questionable. No doubt, I had more than enough food to make it through one more full day. I felt energetic and full almost the entire trip, even during my multi-peak adventure, I felt great the whole time.
Morning Coffee Made with

SimplyOrganic Coconut Oil Individual Serving Packets
Individually Vaccum Sealed Tablespoons of Kerrygold Butter

6x Egg Sou Vides with Cured Ham and Bacon from Costco
8x Salami and Provolone Rolls
8x Prosciutto and Mozarella Rolls
3x Cheese Wrap with Prosciutto, Salami, Coppa, Soppresta, Spinach, Mustard, Mayo
9x Garlic Dill Pickles
2x Sabatino's Paleo Organic Basil & Cracked Black Pepper Smoked Chicken Sausage
2x Organic Sweet Italian Chicken Sausage
4x Large Avocados
Trader Joe's Roasted Nut Mix
Nori (Seaweed)
Last week was without question one of the best weeks of my life! Like I told my friends, the only thing that could have made the past week any better would have been to have Erinn along for the adventure.
Thanks to a friend, Andria, who captured the "Golden Ticket" ? for the Enchantments Core Zone, 7 of us were able to enjoy the peace, tranquility, and relaxation induced by one of the most sacred Hiking/Camping spots in our majestic state of WA and probably in all of the US too.
The Enchantments consists of an 18-mile through hike and every year there is a lottery for campsites during the warm and dry months. It's quite difficult to get this permit, but we were beyond fortunate to have obtained access to our very own "Golden Ticket".
With fortune in our favor we set out on a 4 day and 3 night backpacking adventure that I'll share over the next few posts.
Hike to Colchuck Lake
Day One | July 21, 2019 | Leavenworth, WA
With our Golden Ticket in hand, we set out from Seattle on Saturday July 20, 2019 for Leavenworth. We stayed with a friend of Andria's, Ryan, who would be joining us. We were quite thankful for his hospitality and the close launching point. It made Sunday morning much easier to get to the trailhead, though by my standard we got a fairly late start.
On Sunday morning, we hiked from the Colchuck Lake Trailhead to Colchuck Lake where we set up our first camp to enjoyour first night away from civilization. This hike was fairly steep with it's 2000'+ of elevation gain, but with fresh legs, it felt fairly easy and most of it was at a relatively normal going grade. A few of us sprinted ahead in hopes of securing a solid campsite for our first night. When we arrived at the first clearing that really gives you a view of Colchuk Lake and a lay of the surrounding mountains, we realized we may not have been as good at communicating our plan with the entire group as we had thought we were. Most of the group arrived within 10-20 minutes of each other and we set up camp, but two of our companions were nowhere to be found. I did what I could to keep the group relaxed and assured them I would happily run back if they didn't arrive within a certain amount of time. By time we decided we were gonna go scouting for them, they arrived moments into our scout. Relieved, we all enjoyed some food and finished setting up camp.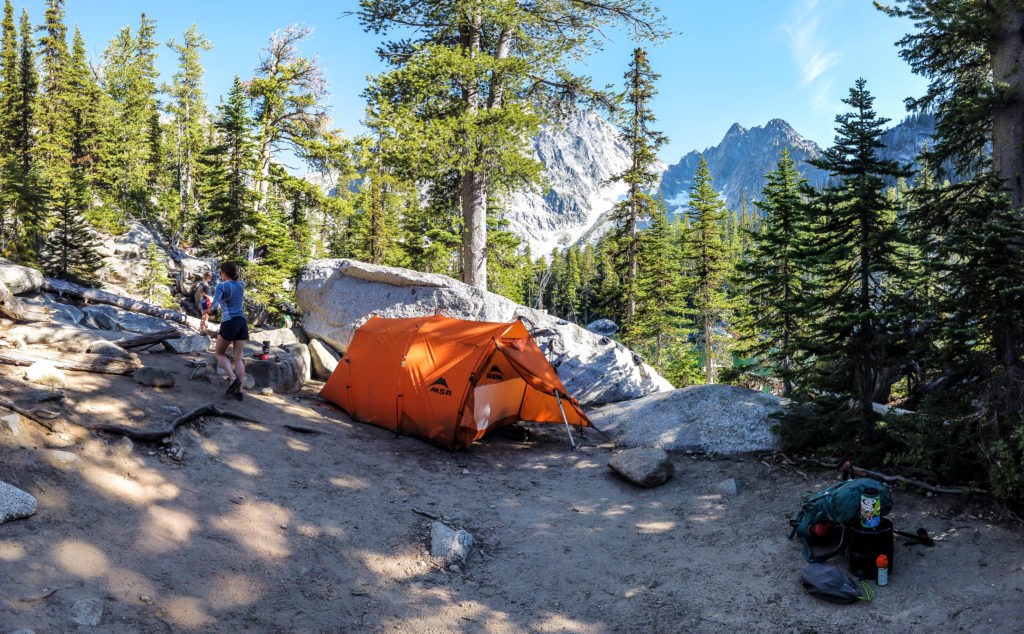 After we set up camp we went for a little jog and scoped out Aasgard's Pass. This is what we'd be climbing tomorrow. It was within a half mile of our campsite. The pass is a steep climb that would subject us to 2000'+ of elevation gain in less than 2-miles. Thankfully, our route was free of snow all the way to the top of Aasgard's. Sure, there was snow on the pass, but nowhere where we had to travel to reach the saddle high above Colchuck Lake.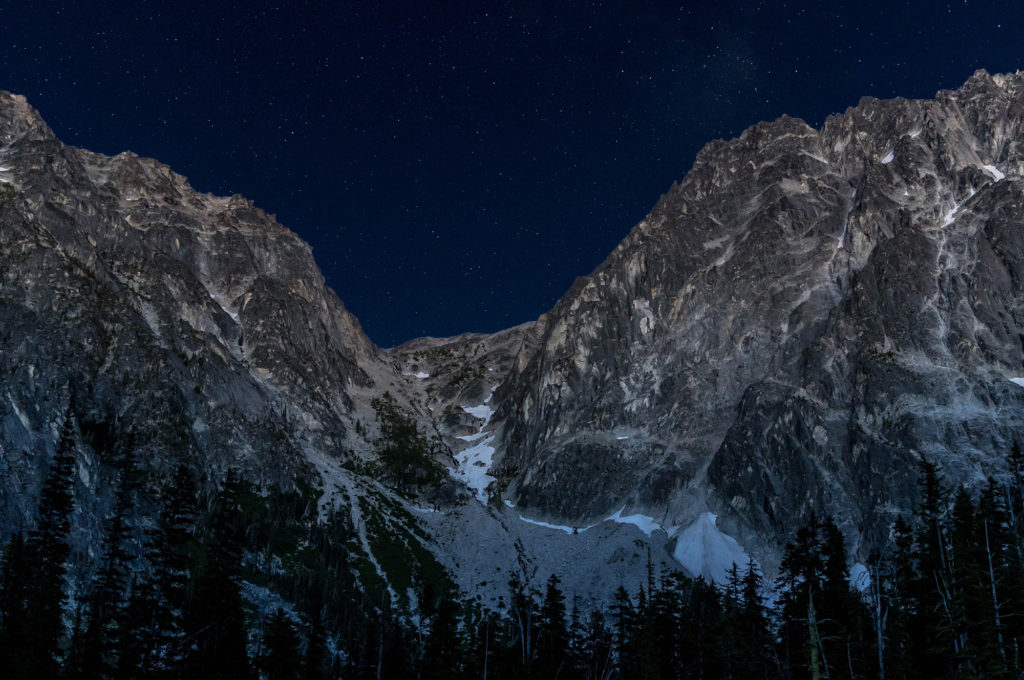 The whole group was stoked for the adventure ahead. We checked out some beautiful stars and got to bed as soon as we could. The next morning would be the big push with all our gear.
Colchuck Up Aasgard's Pass to Perfection Lake
Day Two | July 22, 2019 | Leavenworth, WA
It didn't take long until after the sun rose for bodies to start stirring. We woke up at our campsite on the little pond next to Colchuck Lake , and did the morning routine of eating and making coffee. Since I am currently rocking the #ketodiet for my upcoming attempt at the Cascade Crest 100, my morning coffee is made with Starbucks Via Italian Dark Roast instant coffee and is mixed with 1 tablespoon Kerrygold butter, 1 tablespoon of coconut oil, and 1 scoop of protein powder, when combined it makes for a hefty dose of fat, calories, and some slow-release caffeine adding up to just about 500 calories. To make the instant coffee, I went down to the pond and scooped some water into my Jetboil and cooked it on an MSR Isopro cannister.

In addition to the coffee concoction, I once again utilized the Jetboil to prepare my breakfast, this time I used the pot holder attachment along with my Sea to Summit Alpha Pan to heat up these two premade eggs sou vides I purchased from Costco. To top if all off, half an avocado. Talk about a way to fill yourself up before a grueling hike with nearly 50lbs of weight on your back. I was thankful for the filling meal and ready for an awesome day of adventure. With everything I consumed, I enjoyed a meal with over 1100 calories that started my day. With this kind of breakfast ingested, I wouldn't need to eat for a long time.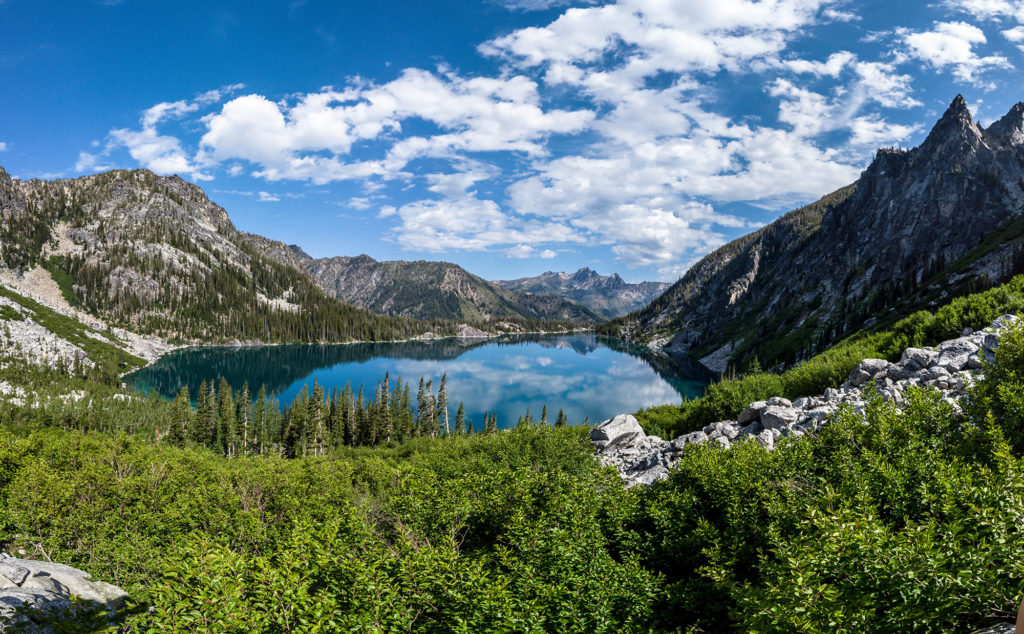 Once we finished fueling ourselves up and taking care of any personal needs, we packed up our campsites and made our way to the wicked ascent that is Aasgard's Pass. This brutal ascent hit us with over 2000' of gain in less than 2 miles. It's a very steep pass and sometimes it can be a bit of a treacherous climb, especially when you're carrying a heavy pack.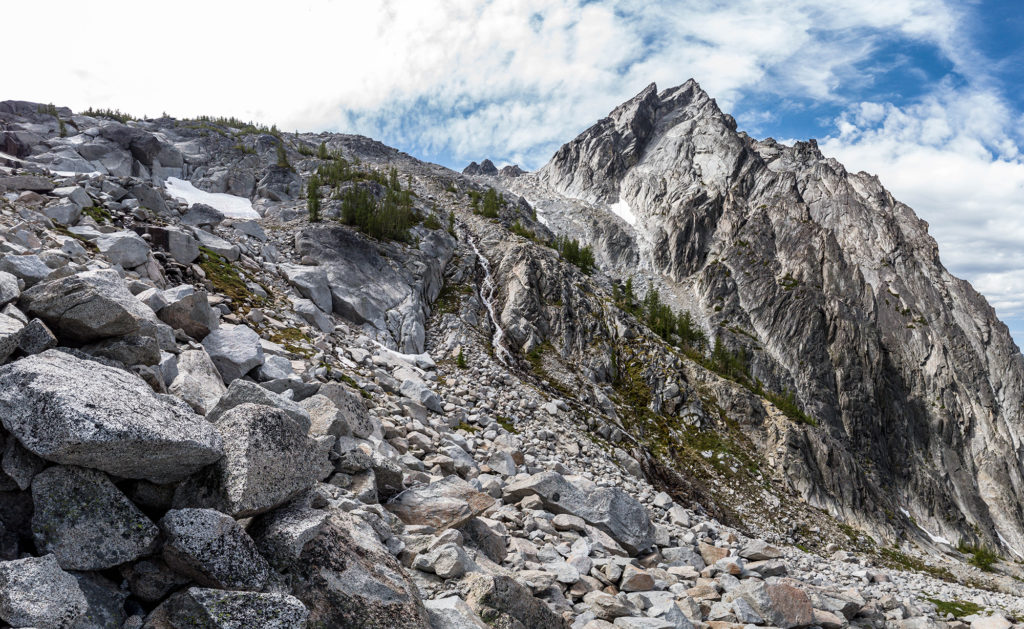 On this day, the pass wasn't too bad, it was just a little hot. If we could have started a bit earlier start, that would have been helpful. Nevertheless, we made it to the top successfully after spotting the first of many goats along the way. Once we reached the Core Zone, we enjoyed some killer views of the first few Alpine Lakes, like Inspiration Lake, and the tremendous view over Crystal Creek before  we eventually stopped to camp at Perfection Lake. Here is where we would spend the next two nights.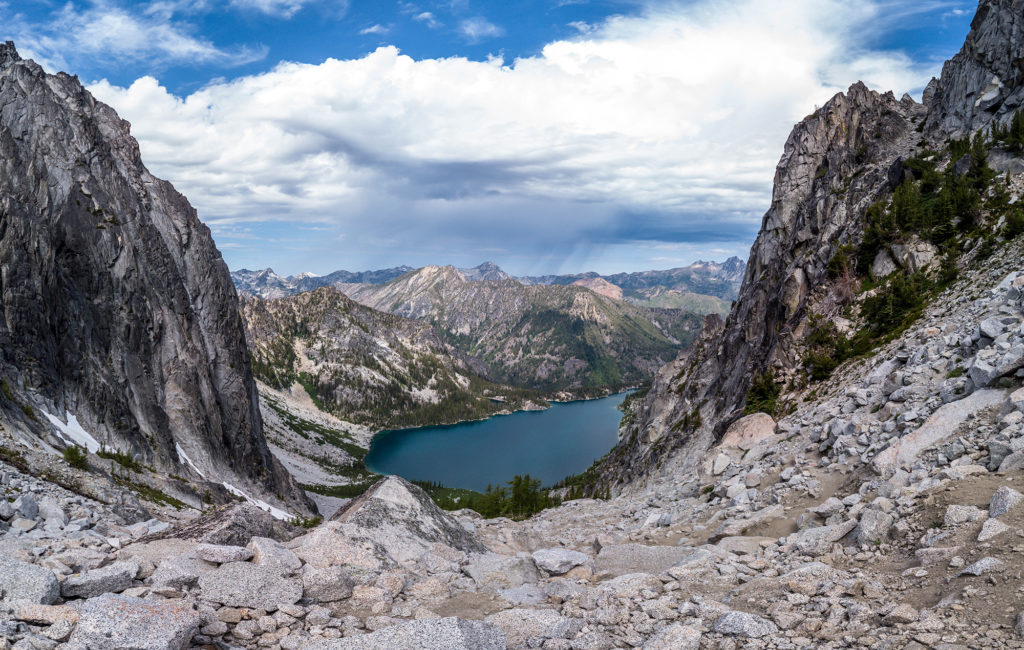 Upon arrival at our campsite, we were weclomed by even more mountain goats. At first, it was AWESOME. Eventually they became a bit of a nuisance. Apparently the mountain goats are addicted to the salt in human urine, so everytime you pee, they know you're about to. It's kind of creepy and led to a few encounters where I had to throw rocks at a goat that was charing at me while I was taking a leak. Don't worry, I never threw the rocks directly at the goats, just in their general direction, per the Park Rangers orders. Upon our arrival, the rangers informed us of the goats addiction and that our best way to deter them would be to throw rocks at them, so rocks were definitely thrown. Only as needed.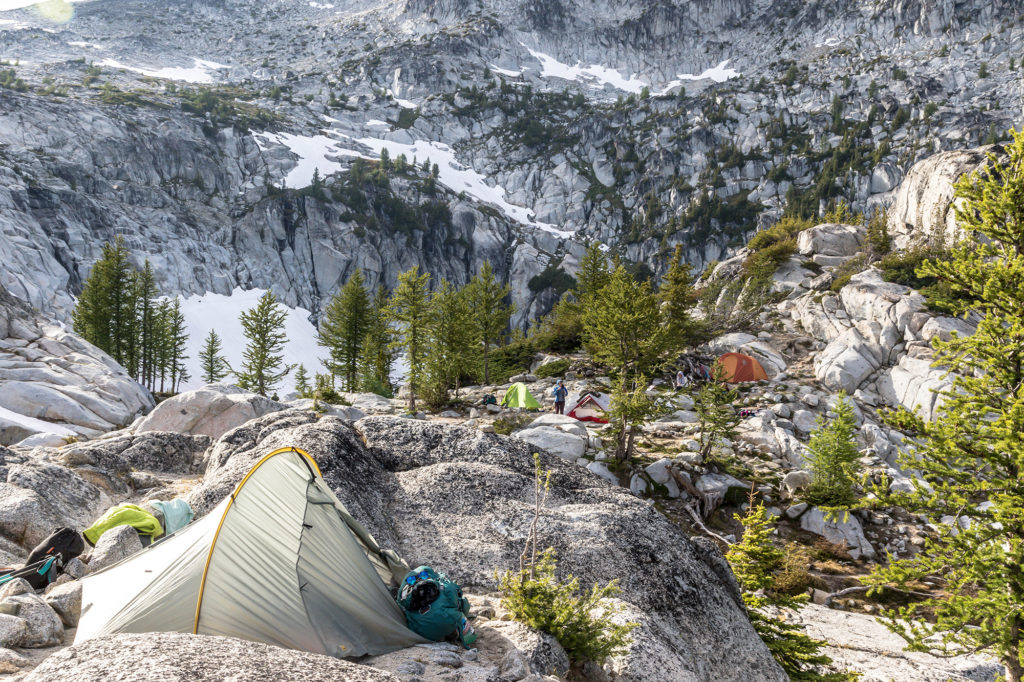 Perfection Lake to Dragontail Peak to Little Annapurna to McClellan Peak Loop
Day Three | July 23, 2019 | Leavenworth, WA
This was my day. It was the segment of the trip that I had the most anticipation for. After waking up to a bunch of goats outside my tent, I made a quick effort to ready myself for the day I had planned. Prior to leaving for The Enchantments I informed my crew of my intention to summit Dragontail Peak at some point during our stay. After seeing how the first and second day played out, I knew the third day would ultimately be my best day for tackling this endeavor.
It was almost two years ago that I made my first trek into the Enchantments and discovered how beautiful a place this was. It was then that I decided I wanted to someday summit Dragontail Peak. For nearly 2 years I have pined to summit the ? that looms over Colchuck Lake, and on the 23rd day of July, I was finally afforded the opportunity to attempt to make that dream a reality.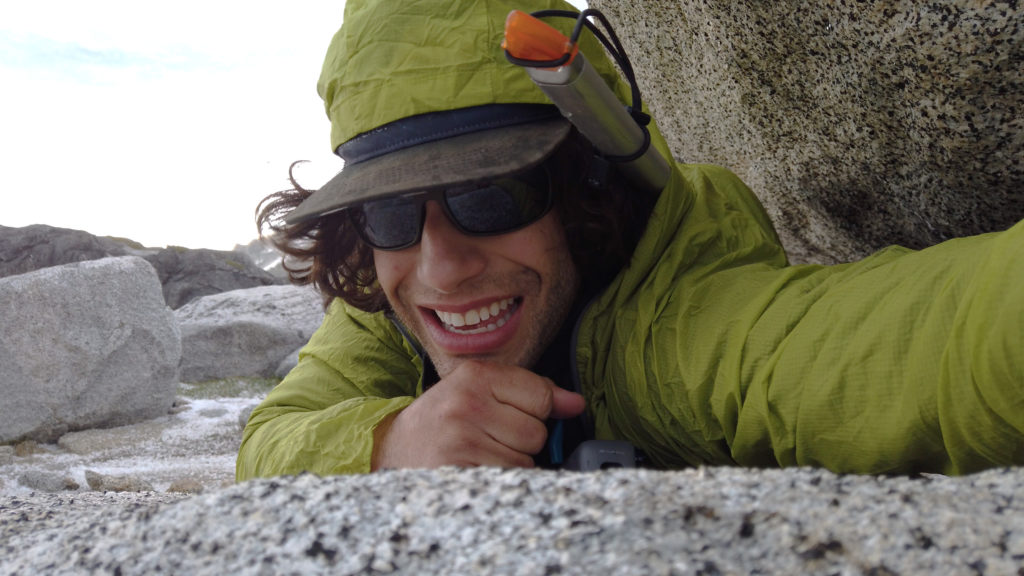 Within 15 minutes of my departure from our second camp, a storm rolled into the Core Zone, moments before it began I saw a marmot and a bunch of mountain goats running for cover under the nearest trees and boulders. I took my Patagonia Nano Puff and Houdini jackets out of the back of my Ultimate Direction Vest, I put the Nano Puff on and then I did my best to cover the pack and myself with the Houdini with my Black Diamond Ice Axe poking out the top. Moments later, tiny pebbles of hail rained down upon me. I wasted no time and followed the example set by the other animals in the area and sought cover under a boulder that offered just enough overhang to safely seek shelter. I was thankful for the pair of Outdoor Research gloves that I packed, they kept my hands warm while I waited for the storm to pass.
It was only a few minutes later later that the storm passed and I quickly got myself back up and set out on my way. Soon after, I met up with another camper by the name of Frances, we quickly recollected the micro hail storm we just experienced and discussed my plan for Dragontail and his plan for Little Annapurna. He suggested I ridge walk from Dragontail over to Little Annapurna when I was done, I had already considered this so I kept the thought at the top of my mind. We wished each other well and I carried on.
The thought of tagging more than one peak today was very appealing and I had given myself a cushy 3:30PM estimated time of arrival back at camp that I told my crew to expect, 6PM was our, it's okay to worry time. I continued to make my way toward Aasgard's Pass where the junction I was looking for to head toward Dragontail. To make this journey safe and to simplify the route finding process, I preloaded the route into my Suunto Spartan Ultra watch and that helped lead me to the rock cairns I was looking for.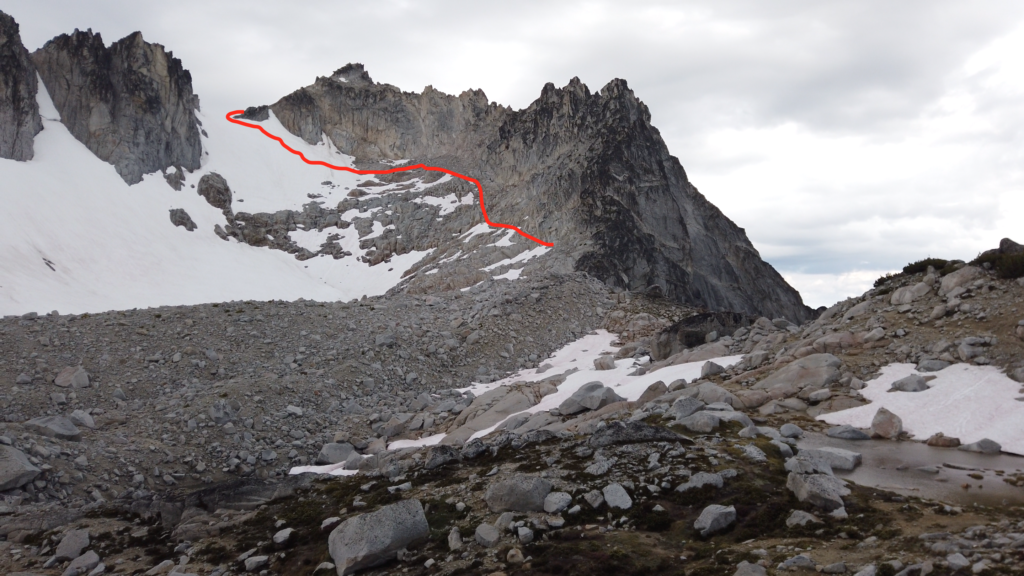 Once I started to navigate the rocky talus that defined this mountain's ridge and led to the snowy saddle that leads to the back side of the mountain for the final climb, I found a comfortable rock to stop and take a moment to soak in the beauty of Colchuck Lake over 2,500′ below. I was blown away by it's beauty, and I took that moment to take a quick piss, on the rocks where the rangers wanted us to, and pulled out a Vermont Beef Jerky Stick to naw on. As I finished my jerky stick, I stood up and heard someone approaching. To my surprise there was someone else climbing this mountain too. He looked like he was a fellow ultrarunner. I quickly introduced myself and then I asked my new friend, Cyrus if he was headed up Dragontail as well. When he replied that he was, without hesitation or skipping a beat I asked if I could join him. To my luck, he was all for it. After that…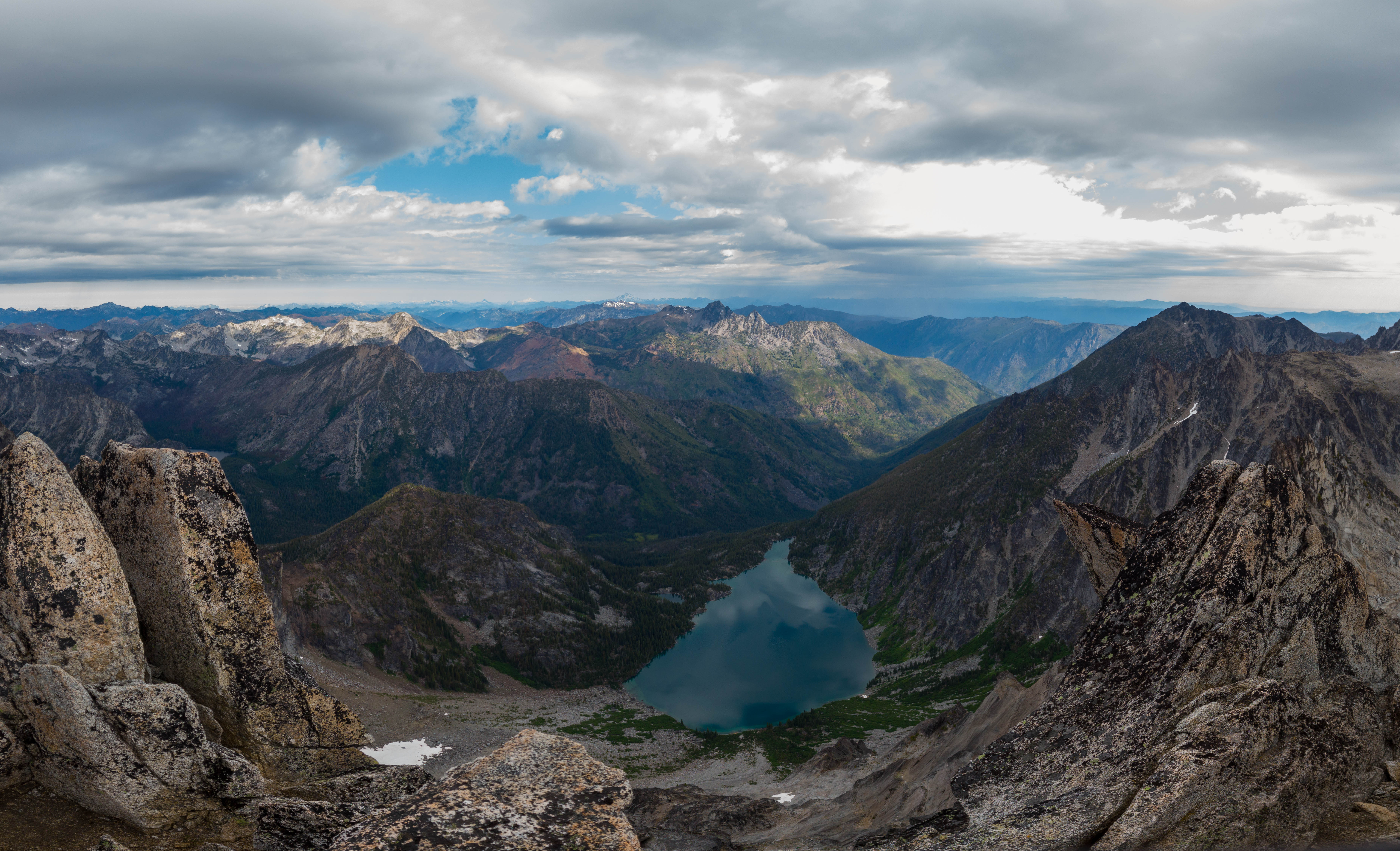 Over the next few hours, Cyrus and I ran all around the Core Zone tagging peaks one at a time. On our way up Dragontail, we hit a snow patch which was well packed and easy to traverse, this led to a saddle in the range. From there you head around the backside of the mountain which leads you to a straight forward trail that climbs to the summit of Dragontail Peak. Only at the very end do you encounter a challenging segment, in my opinion, it was a relatively easy scramble to the summit. Standing on top of the highest peak in the Enchantments Basin, I could see everything! From the top of that peak we could see, Colchuck Peak, Mount Stuart, Colchuck Lake, and the entirety of the Core Zone. The views were incredible. Not only had I just summited the 5th highest scramble peak in the state of Washington, but I also gained access to the best view there is in all of the Enchantments. From the top of that majestic peak, we were able to soak in the marvelous 360-degree views before we continued our adventure. We climbed down from the summit, and then we traversed some ridges that lead us on our way toward Little Annapurna.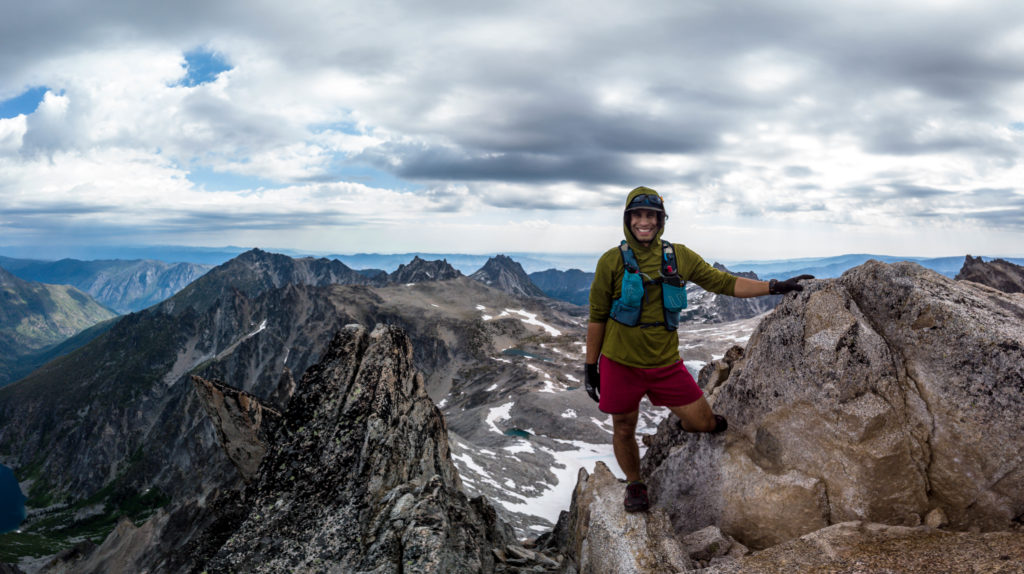 When it became apparent that we could not run along the ridge because of all the abrupt cliff dropoffs, we decided to drop a little lower on the mountainside. We eventually emerged from the backside and then everything opened up, from there we could see Little Annapurna standing tall above the Alpine Lakes. On our way down to the start of our summit of Little Annapurna, we sped things up by skiing down some of the snow patches in our shoes when the conditions allowed it. Once we reached the base of Little Annapurna, we began our second big climb. From the lowest point, we had to start climbing to the summit, and it wasn't that bad at all, it only took us 15 minutes to reach the summit from that lowest point between peaks. Once we summited Little Annapurna, it was time for another big descent, this time we had drop down a lot further. We had over 1,500′ of decline, which meant the next climb would take us a bit longer. As soon as we hit Little Annapurna, we were both thirsty for another summit so we decided we'd do McClellan Peak as our final summit before getting my back to camp by my 3:00 PM deadline. The lowest point between these two peaks that we reached was Crystal Creek. Cyrus helped me get the courage to jump in the chilly alpine lake, it wasn't that bad, but it wasn't warm enough to hang around in the water. We took a super quick dip and then we put our shoes and socks back on to set off for McClellan Peak.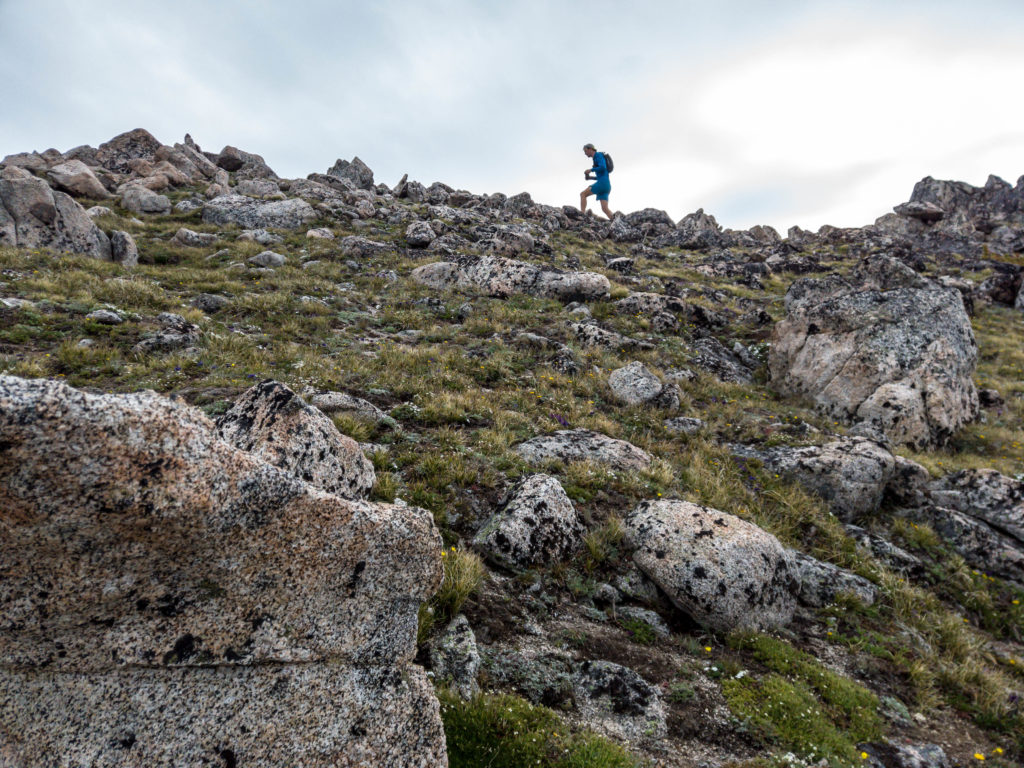 McClellan Peak was a grind; this one took a lot out of me, I could tell I was starting to run a little low on calories, so I smashed a Justin's Almond Butter, it didn't take long before I felt reenergized. Another mostly talus ridden climb, this peak required a lot of vertical climbing over rocks and boulders in a short amount of time for a total of another 1,100′ of elevation gain for us. At the base of the summit of this mountain, you begin to boulder your way up to the summit. This peak was one of the more technical climbs that I have done. For new hikers, I wouldn't recommend it unless you're comfortable with being a little uncomfortable. At the summit, you are exposed and have to climb some tricky sections to reach the peak. It is not bad if you have the skill but if you're new to hiking and climbing in general, save this one for when you've developed some more experience and confidence. After summitting, we began our journey down and around Perfection Lake, past Inspiration back arriving on the backside of my camp.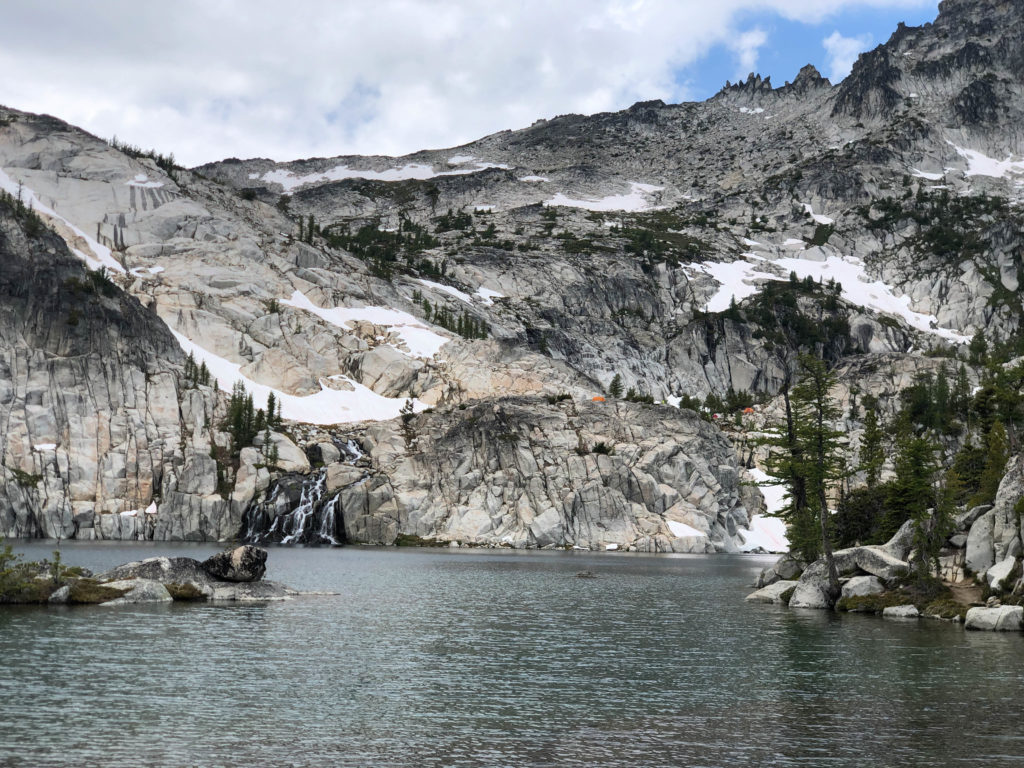 We made it back to my camp an hour and a half before the latest time I told my group I would be back by. Pure bliss took over me when I arrived. I was in heaven. A dream had come true, I ran the ridges of some of the mountains in the Enchantments and on top of that I made a new friend! After the run, I took some time to recover, rehydrate, and replenish my fuel tank. To make the most of my campsite, I took my sleeping bag out of my tent and spent the rest of the day eating and looking at the clouds over Perfection Lake as I lay on the ledge next to my tent. As I lie there in my sleeping bag overlooking Perfection Lake, I enjoyed the ever-changing clouds and the unbelievable sunset that swept across the horizon. Topping the night off with one of the most dramatic sunsets I've ever witnessed was the whipped cream on top of a strawberry pie. That day will go down, by far, as one of the best days of my life. July 23, 2019, is a day I'll remember and cherish forever.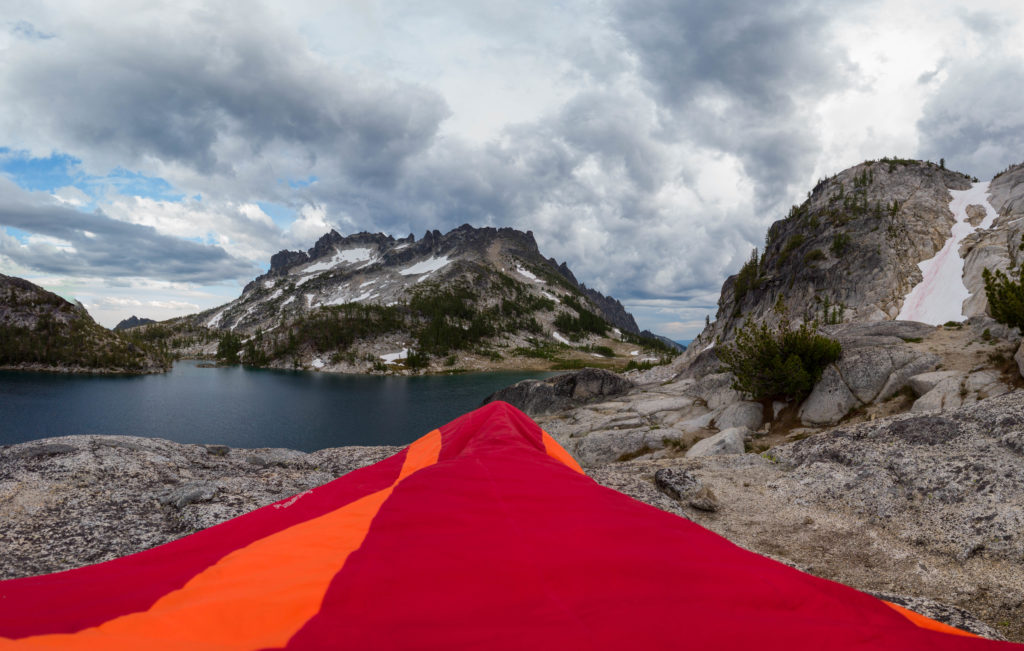 Chilling Enjoying The Most Enchanting Sunset
My Eventful Hike Out:
An Early Departure from The Enchantments
Day Four | July 24, 2019 | Leavenworth, WA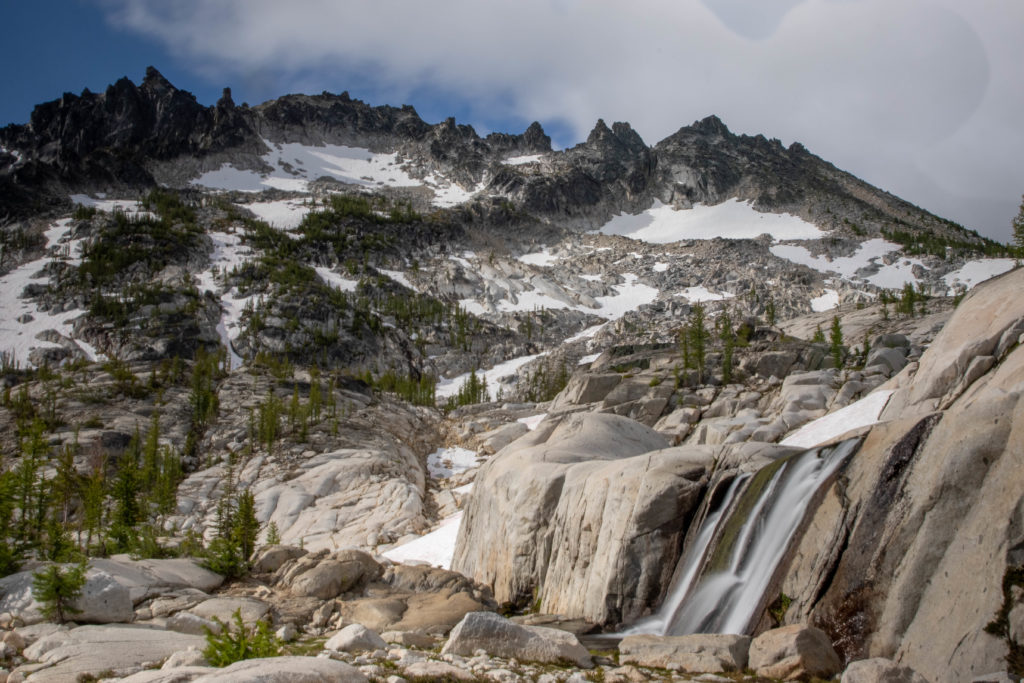 This day was surprisingly the most challenging day of the trip, originally we had planned to stay 5 days and 4 nights total but early this morning our hike out from Perfection Lake, one of our party members experienced a tweak to her ankle. She had been rehabing her ankle prior to this trip, so when it happened, I was concerned for her and how bad it might be. When it came to how we should handle the situation I leaned on all my experience from directing races to make a decisions and made my suggestions known to the group. It was of my opinion that the best decision was to extract her as soon as possible, we would want to minimize the swelling she'd experience, because the the next day I assumed walking on her ankle would be the last thing she'd want to do.
When it came time for a discussion I told the rest of the group that ultimately, the decision as to whether we stay or leave should be up to our friend since she is the one with the injury, and that I would side with whatever her decision was, internally I hoped that she would choose to leave the same day. When I saw her icing her ankle at Leprechaun Lake, our first stop after leaving Perfection Lake and where we decided we would enjoy our breakfast, I knew it had to be pretty bad. I was concerned for her. Leaving Lebrechaun Lake was a good indication of how much it was impeding her journey, her pace slowed quite a bit. As we carried on our way, I started to think of how I could aid this situation, I couldn't carry both packs at the same time, my balance and visibility were going to be required for the descent ahead. I knew the solution.
Knowing that the rest of the way out of the Enchantments was almost all downhill, the lingering notion that I have a 100-mile mountain race to train for, and that my friend was injured, I decided to run ahead and drop my pack at a prediscussed checkpoint, then I would run back and fourth to shuttle her bag to each stopping point as we made our way out. The first time I made my journey back to grab her pack, she was a bit taken a back and weary about handing her pack over to me for fear of being a burden. I told her not to worry, that I was happy to help, the moment I grasped my hand on her pack and felt the weight in my hand, I was relieved about my decision to play the role of superhero here, her pack felt featherlight. It couldn't have weighed more than 20lbs at most. Once I was strapped in, I said farewell and agreed to meet them at the first stopping point.
The first spot we stopped at was Upper Snow Lake, then we continued on and made a stop at Lower Snow Lake, eventually reaching our last stop at Nada Lake. Here, we had planned to gather everyone to make a final decision, either camp here at Nada Lake, or depart and go back to Ryan's for some hot tub action. When I arrived at Nada Lake the first time, I dropped my pack at the first real opening I saw on the lake. Then, I ran back up the rocky talus ridden path that leads back to Upper Snow Lake, and met my injured friend somewhere back up some 400′ of elevation gain. I grabbed her pack and quickly rack back to the spot where I dropped my pack and decided to instead find a spot on the otherside of the lake, closer to our exit. When I reached the gorgeous clearing that looks back where we had just descended from, I dropped her pack and quickly ran back to my pack. Once I lugged my pack to the farside of Nada Lake, I decided it was time to give my feet a rest from the extra few miles I just ran with that light pack. I took my shoes and socks off and waited for everyone else to arrive.
And I waited.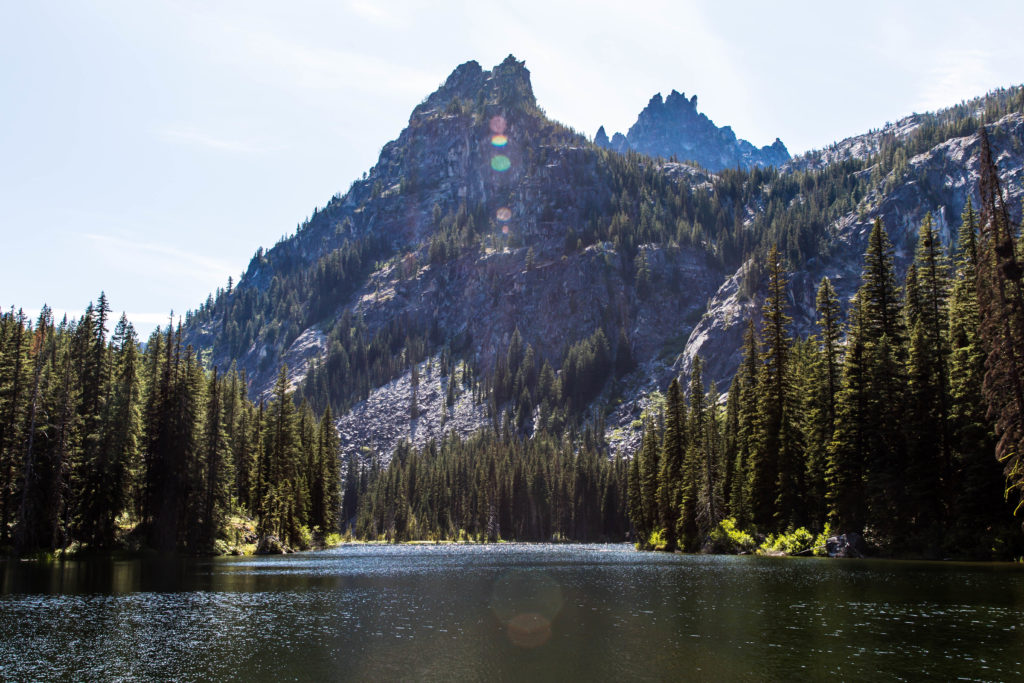 After 20 minutes, my injured friend and another female friend, who actually happened to be a nurse which was quite comforting in this situation, came into sight. I was stoked. With the two of them here we could reevaluate and make a decision for when everyone else arrived. We set up and cooked our lunch. It was clear a departure would be favored so long as everyone else was good to go. We finished eating and it had been nearly 30 minutes, it seemed a bit long for our friends to be behind us, especially given that the injured person had already made it to Nada Lake. We decided to give it another 15-20 minutes and if no one showed, I'd set out on an expedition.
No one else showed.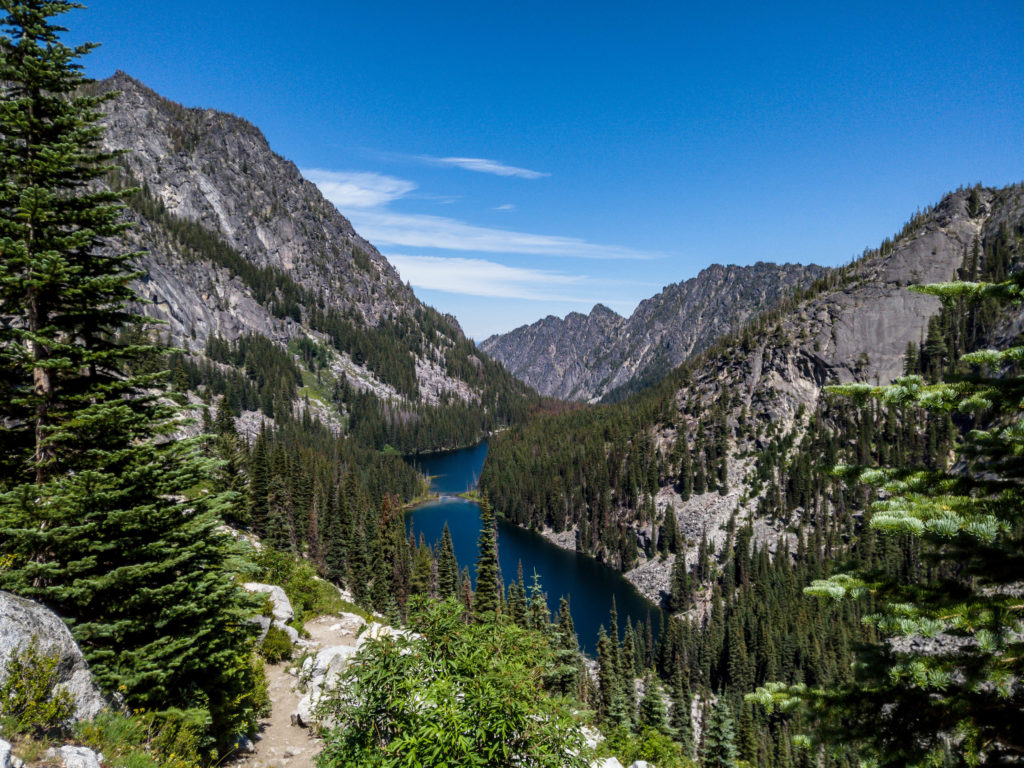 With this surprising reality and no communication device available I decided that I would run as far back as the bridge we crossed just before our arrival at Upper Snow Lake while the two ladies hung out and rested. This run was three miles back from where we stood and entailed about 500′ of gain. I needed 2-hours to make the round trip journey. I told them if I wasn't back by then to set up camp and we are staying. If I was back, we would go from there. Since it was a short run and there were very heavily flowing waterfalls a plenty, I decided I wouldn't really need water and brought only a Quest Bar along the with me. I took off on my run, telling myself over and over that there was nothing to be concerned with and assuming they just got delayed taking in the sights and sounds of the forest, the mountains, the lakes, and the beautiful beaches.
Without further hestiation, I took off and started running back to the large log bridge at Upper Snow Lake. With all the pack shuttling and now this, I saw the same few hikers over and over again, a few told me I was putting them to shame, "I shrugged at one point and said, 'I'm just trying to help my friend'". About a quarter mile from the spot at Nada Lake, I ran into three of the women we were hiking with and realized that our male friend was missing. I was relieved to have found them but distrought that they showed up without him. When they told me they hadn't seen him since before the bridge I was totally shook but I kept myself completely composed, not letting them know how worried I was. I immediately came up with a plan to continue as planned but adjusted the time I needed a bit, I gave myself an additional half-hour and asked the ladies to relay that to our other female friends back at Nada. Then, I took off running as fast as I could to find Ryan. I was worried.
When I arrived at the bridge, having shouted Ryan's last name over and over and over and again at every toilet junction, beach, or place where I saw humans in sight. Nothing. Not a single response the entire stretch from Nada Lake back to the bridge. It was gut wrenching. Where was our friend? What happened to him? Was he okay? Did he wander off and get lost somewhere? Was I going to have to use my Garmin inReach to contact Search and Rescue by uncovering the SOS button and actually pressing it and not canceling the request for help? I sure hoped not. I decided to go a little further than the bridge towards a secluded beach that wasn't on The Enchantments trail.
I shouted his family name once again, nothing. It was defeating. On my way up the mountain I was certain I would find him. I ran back to the trail and continued my search. With only a sliver of hope left, I decided to turn back and I prayed I somehow missed him along the way because he was on some offshoot checking out the sights. I stopped at the large waterfall before the bridge back to Upper Snow Lake and drank some water straight from it. After running 3.5 miles I was feeling a little thirsty and this was the best water source on the way back. That cold glacial melt is absolutely delicious when it comes straight from the source, normally I use my Steripen Adventure Opti but I was feeling rather trusting of this water source, the flow was so powerful it was the freshest of fresh. After a quick refreshment, I made my way back toward camp, the whole while pondering how I would share the news with my friend and how to determine when it would be appropriate to hit that SOS button.
With a range of throughts scrambling through my mind, I myself scrambled my way back down the talus field, again, this time full of concern yet also hope all at once. He just had to be okay. He just had to. I kept telling myself this as I descended into the last set of Alpine Lakes. As I neared the last half mile to camp I saw on my watch that it was 10 minutes until they would start setting up camp if I hadn't returned. It seemed we would be spending another night, with a huge possiblity that we would be calling a SAR team to find our friend.
Then, out of the corner of my eye, I saw a guy in a blue Arc'teryx top that looked at lot like our friend Ryan, and as soon as he came into focus, I shouted out. "Holy fuck, where the hell have you been? I'm so happy you're okay!" It turned out he had communicated with the others that not to wait up for him, without any sort of distinct time frame which is what caused all our worry. Our group misinterpreted that to mean he would be a few minutes behind and would catch up, yet it turned out he meant that he'd catch us at camp in a few hours. This was a lesson well learned, always give explicit directions about your intentions if you are splitting off from the group. If you're going to be gone a few minutes or hours, make that clear, if you are going to go hang out on a beach and chill in solace, cool, just make sure the group is explicitly informed. Communication, no matter what facet of life is instrumental to preventing unneccessary concerns. With him safe, we all made our way out from Nada Lake, elated we wouldn't have to call in a SAR team.
The descent from Nada Lake is a rather mediocre experience in terms of the views, you see a lot of the same thing for 5.5 long zig-zaggy miles. There are some nice wild flowers along the trail right now but that final series of switchbacks is quite the torture fest as you stare at the parking lot below. We were quite stoked when we finally made it back to the car we parked at the Snow Lake trailhead. Once our crew of 5 made it to the car, we all piled in and drove back to the Colchuck Lake trailhead and grabbed the two vehicles we stashed up there which included Susan, the Subaru (my subie) and quickly made our way back to Snow Lake trailhead, hoping that our timing would be just perfect with the other two ladies in our group.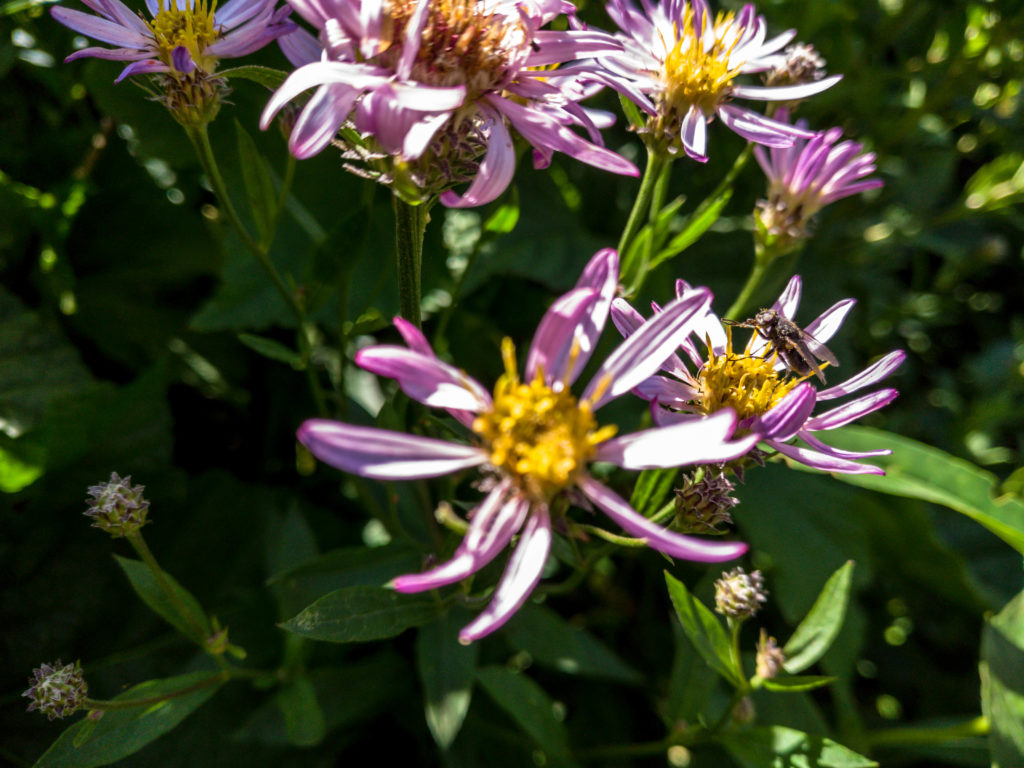 Sure enough, as we pulled into the parking lot, our two lady friends emerged from the trailhead excited to see us arriving in such a timely fashion. It was the perfect end to this rather challenging backpacking trip. I was relived to be done using my feet for a bit, over the course of the previous 10.5 hours, I ran back and fourth, and up and down the pass from Upper Snow Lake to Lower Snow Lake and by the end of the day, I had racked up a total of 22.26 miles. Over that entire stretch of land I only experienced a total of 2,291' of elevation gain which when you think about it isn't that bad, it's only 102.9′ of gain/mile which is extremly gradualy. While the overall ascent wasn't that bad, the descent was a different story, 7,973′ of descent which is 358′ of descent/mile, a solid quad buster over the course of 22.26 miles.
When we returned to the house we showered, cooked food, and hopped in the hot tub for some rest and relaxtion before falling fast asleep. It was one hell of a trip, and I couldn't have had a better group to enjoy this wonderful experience with. Oh, if you're wondering what I ate after this massive 4 days of adventure, my post Enchantments keto meal was ? – Keto Pizza, 2x Kobe Burger Patties, and a few Brussel Sprouts with Bacon.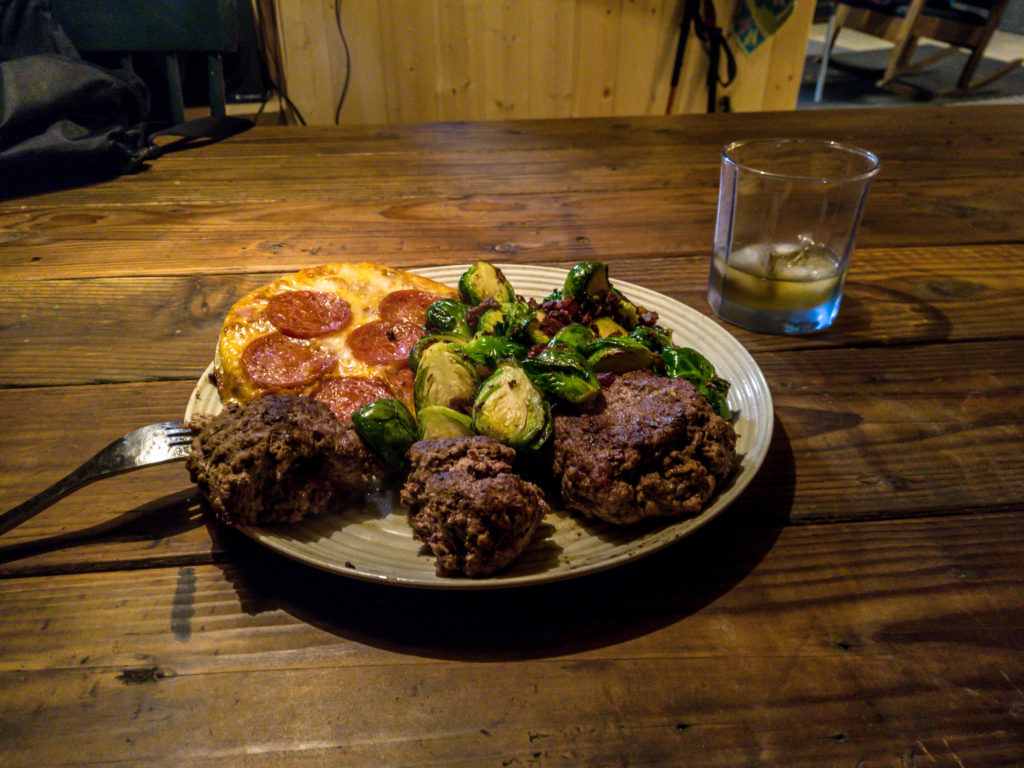 The Enchantments, a trip I recommend to everyone, should be lucky enough to earn the Golden Ticket. If not, there is always the option of a challenging through hike. No matter what, this is one adventure I would recommend at least once in a lifetime. ????
???‍♂️ My Strava Data

??‍♂️

?
---
This is what my tour de Enchantments looked like if you were to look at it from the perspective of solely Strava Data. You'll see each segment broken out from the start to the end, it was quite the adventure. Have you done The Enchantments? Let me know what your experience was like, I'd love to hear it.