Hi, I'm Tony!
I've been in sports and athletics my entire life. Growing up with a father who was a gymnast, circus stuntman, body builder, marathon runner, and triathlete, and a mother who won the NPC Bodybuilding Competition and became Miss Illinois three times during my early years, you can easily see that I had a lot of athletic influence at a young age. At the age of three, my father had me learning back flips in my backyard and taking Tae Kwon Do at night. He was training me to be a ninja before American Ninja Warrior was even a thing!
Anyhow, I figured some background and an establishment of my credentials would be helpful. With decades of experience in gymnastics, mixed martial arts, competitive cheerleading, rock climbing, weight training, running, endurance events, obstacle racing, and yoga, I've developed very specific and unique training plans tailored to the specific sport I have needed to train for. It's from all this experience that I derive my training and coaching programs to help YOU to achieve YOUR health and fitness goals.
this isn't about me,
it's about You!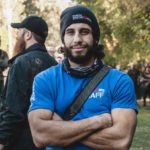 Coaching Experience
Gymnastics Coach

Cheerleading & Tumbling Coach

Bootcamp Coach

Spartan SGX Coach

Director of Endurance at Spartan Race

Ultramarathon Coach

Race Director at SISU Endurance
It's about taking the wisdom I've gained and sharing it with you to aid you in transforming yourself into the person you envision yourself to be in your adventure story. I want nothing more than to see you achieve your goals.
How It Works:
I don't believe in this cookie cutter bullshit that every other elite endurance athlete is slinging these days. I'm going to be ?real with you. Everyone is a different, but there are a lot of things that work the same for all of us. Nevertheless, everyone has different goals and I want to cater my training programs to you.
1. We start with a free 30-Minute consultation.
During the consultation we review the following:
An Honest Self-Evaluation of Where You are Now (come prepared to dive into the nitty gritty)
An Overview of Your Goals

3-Months from Now
6-Months from Now
1-Year from Now

A Discussion of Options Available to Help You Achieve Your Goals
When it comes to health and wellness, it isn't about diets. It's about lifestyles. If you want to create a lifestyle that works for you, I'm ready to help you and we can make it happen, together. Let me be your guide, your guru, and your shaman on this journey.
2. We work together to create an accountability plan that works for You.
This is the part where we figure out what's going to work for you. And remember, this can always change. If what we start with doesn't work, we can adapt and make changes.
We can do weekly or daily check-ins via phone, email, text, FaceTime, Google Hangouts, or Skype. I'm willing to use one of these platforms to interact with you in 30-minute and 1-hour intervals (more of my time is available on request). During this time I can be available to help you however you need it, if you need me to monitor a workout and hold you accountable, let's do it. If you want me to talk about your game plan for the week and provide you guidance and motivation, cool. If you want me to walk you through a workout that's cool too. We can discuss obstacles you are facing or we can do daily motivation check-ins. It's up to you. I'm here to guide you, just let me know how much hand-holding you want from me.
3. We execute the plan and work toward achieving your goals.
With our plan set, we are ready to manifest our desires into our reality. Let's make you the endurance athlete you know you can become. Only you know how bad you want it, only you know how much you're willing to put into it, I'm just here to help give you that extra push, that extra drive, that extra drop of encouragement that gets you to actually do what you know you can.
If this sounds like the kind of training you desire, schedule a free 30-Minute consultation on my calendar and we'll see what we can put together.
COACHING PACKAGES
ENDURANCE COACHING
One Hour Personal Coaching
Individualized Coaching to Achieve Your Endurance Goals
SINGLE DAY HIKE
One-on-One Hike Typically 3-4 Hours
Learn Stoic Principles For Enduring Any Challenge
Prices May Vary Depending on Hike Chosen
MULTI-DAY EXCURSION
A Next Level Endurance Challenge
Unique Excursions Tailored To Your Individual Goals
Prices May Vary Depending on Excursion Chosen
PAYMENT OPTIONS
I accept PayPal, Venmo, or we can find another solution that works for both parties
*These are not automated messages, this is me actually typing out each and every communication because this is about giving you my full time and attention. You're paying for my time, not my automation skills.