Location: Grand Pass Trail – Olympic National Park
Required Pass(es): America the Beautiful Pass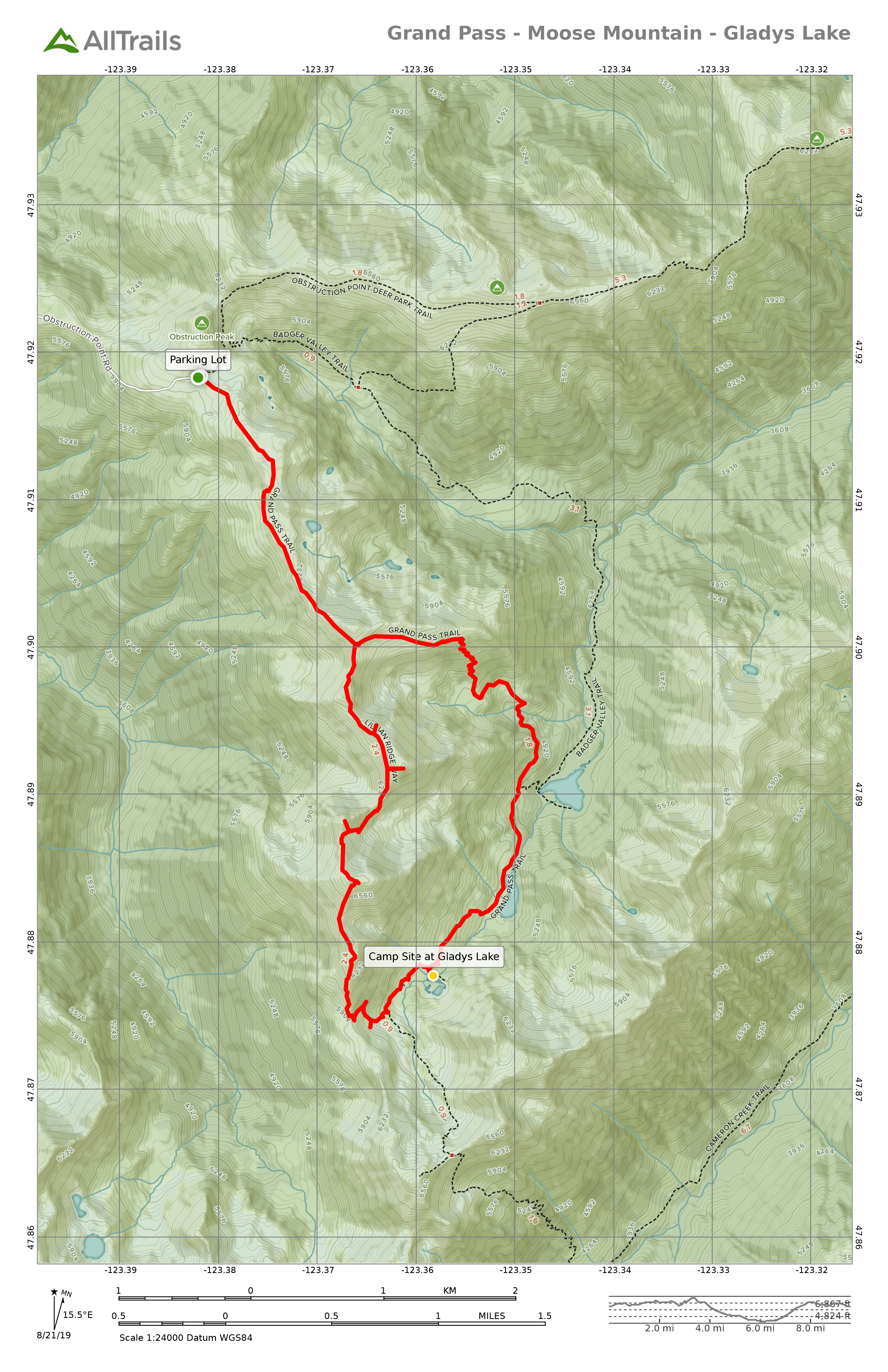 Gladys Lake via Lillian Ridge Trail
Obstruction Point via Grand Pass Trail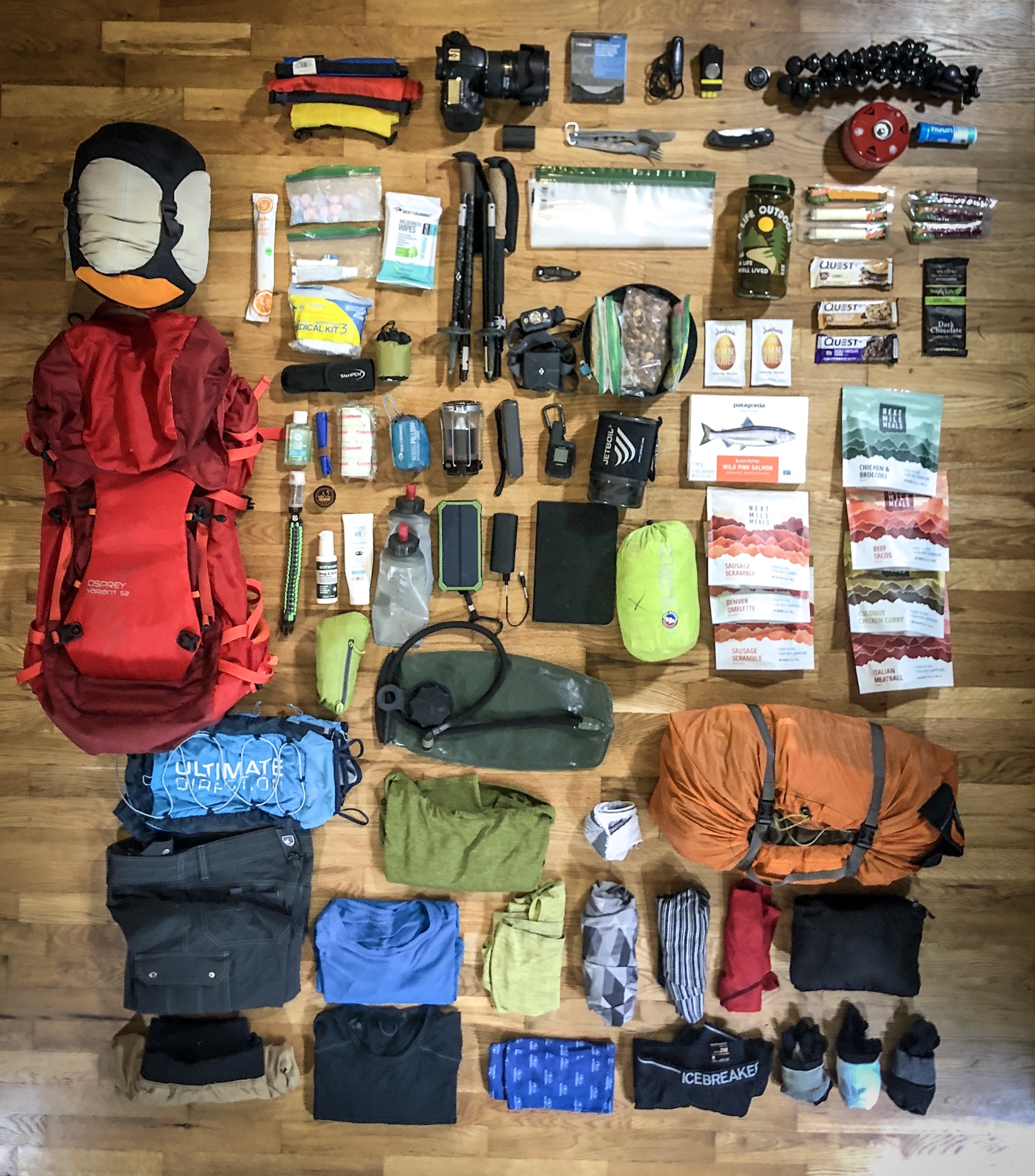 ?? Gear List

?

?
---
With a 2-night trip planned for our stay in Olympic National Park we needed to make sure we packed enough gear to get ourselves through the weekend. Even though we were camping for two nights and three days, we knew we were spending an additional evening parked near the park so we had to account for that food as well. Below you'll find everything I packed for this excursion. Hopefully these gear lists help you when planning the same or similar adventures. I like to bring my camera equipment along so often times I'm carrying far more weight than necessary. Thankfully, most of my gear leans toward the higher end which often translates to lighter loads.
Clothes

1 Patagonia Capilene Shirt
1 Patagonia Capilene Hoodie
1 Patagonia Houdini Jacket
1 Patagonia Nano Puff Jacket
1 Lululemon Surge Short
1 Prana Brion Shorts
1 Kuhl Valiant SS Shirt
1 Kuhl Valiant LS Shirt
1 Kuhl Renegade Cargo Convertible Pants
1 Icebreakers Merino 200 Oasis Leggings
2 Pairs of Cheap Sunglasses

Pack(s)
Sleep System

Sea to Summit Aero Pillow

Cooking System
Water System(s)
Navigation System
Hiking/Camping Equipment

CBD Mosquito Bug Spray
Glowstick
Paracord
Sunscreen

Photography Equipment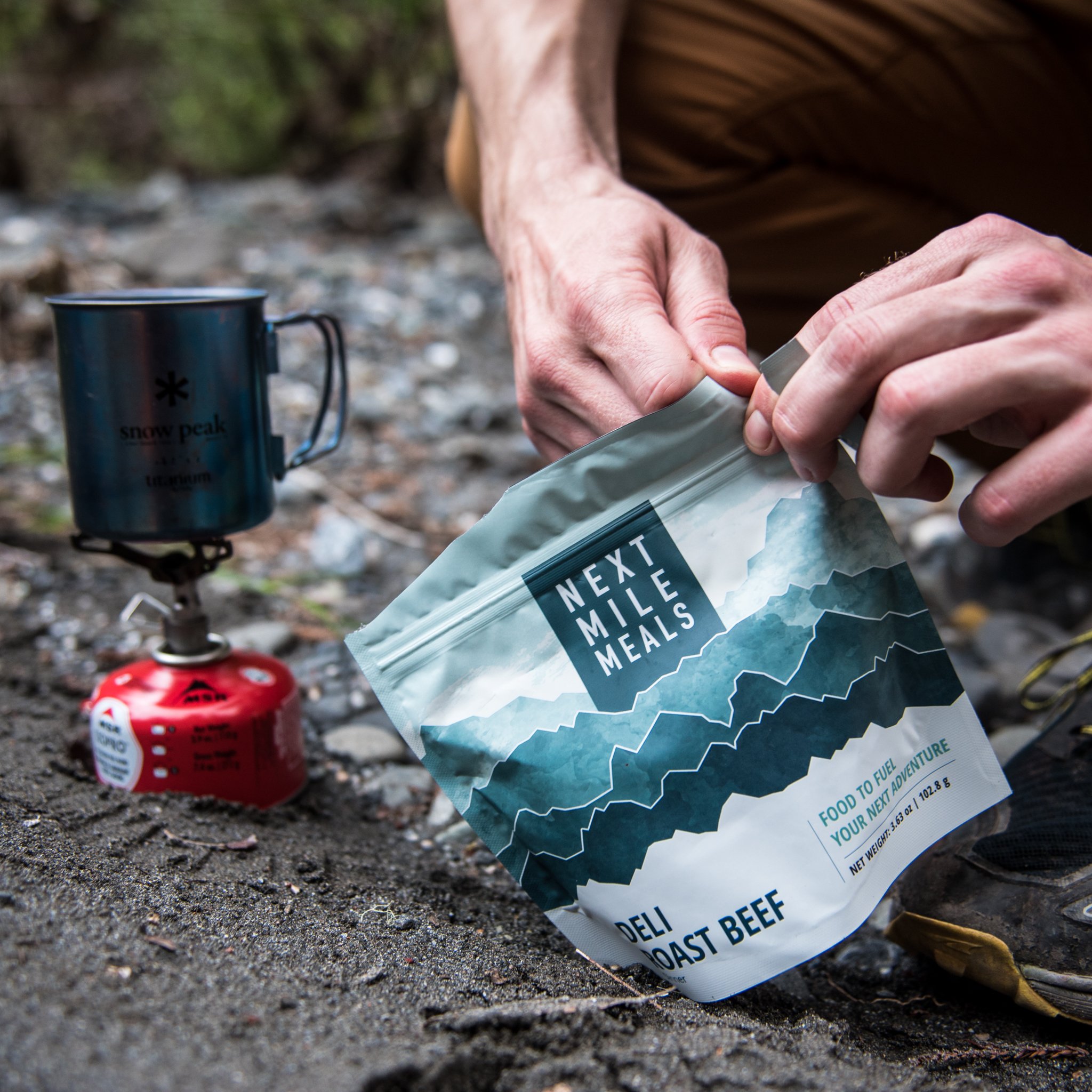 Keto Backpacking Menu
---
After my trip to The Enchantments and realizing how heavy all my food was, I decided to find something different. In my search I discovered Next Mile Meals, a company that makes keto-specific backpacking meals. These things are incredible, they have the perfect ratio for those trying to adhere to a keto diet, but even for people who are not keto, I find these meals to be eons ahead of all the other backpacking meal options in existence. When you buy most backpacking freeze-dried meals you're getting super cheap carbohydrates and maybe if you're lucky a little protein and vegetables. It's kind of ridiculous how badly the other companies skip on giving you the fuel you really need to endure long efforts under load.
Everytime I've eaten a standard dehydrated meal, the experience has been sub-par. My expectations were low, because dehydrated food just sucks when rehydrated, it's usually not very good. With Next Mile Meals, I was blown away. Holy cow, these are the best tasting, most filling, backpacking meals I've ever had. And believe me, I tried every kind when we were looking for a sponsor for the Spartan Agoge (at the time we partnered with Backpacker's Pantry), so I know what is out there. Next Mile Meals is the best backpacking meal company you can buy your camping meals from. I 100% recommmend it. These were my meals from them along with some other snacks and goodies to get me through the weekend.
Morning Coffee Made with

SimplyOrganic Coconut Oil Individual Serving Packets
Individually Vaccum Sealed Tablespoons of Kerrygold Butter
Patagonia Provisions Wild Pink Salmon
1x Fresh Picked Zuchinni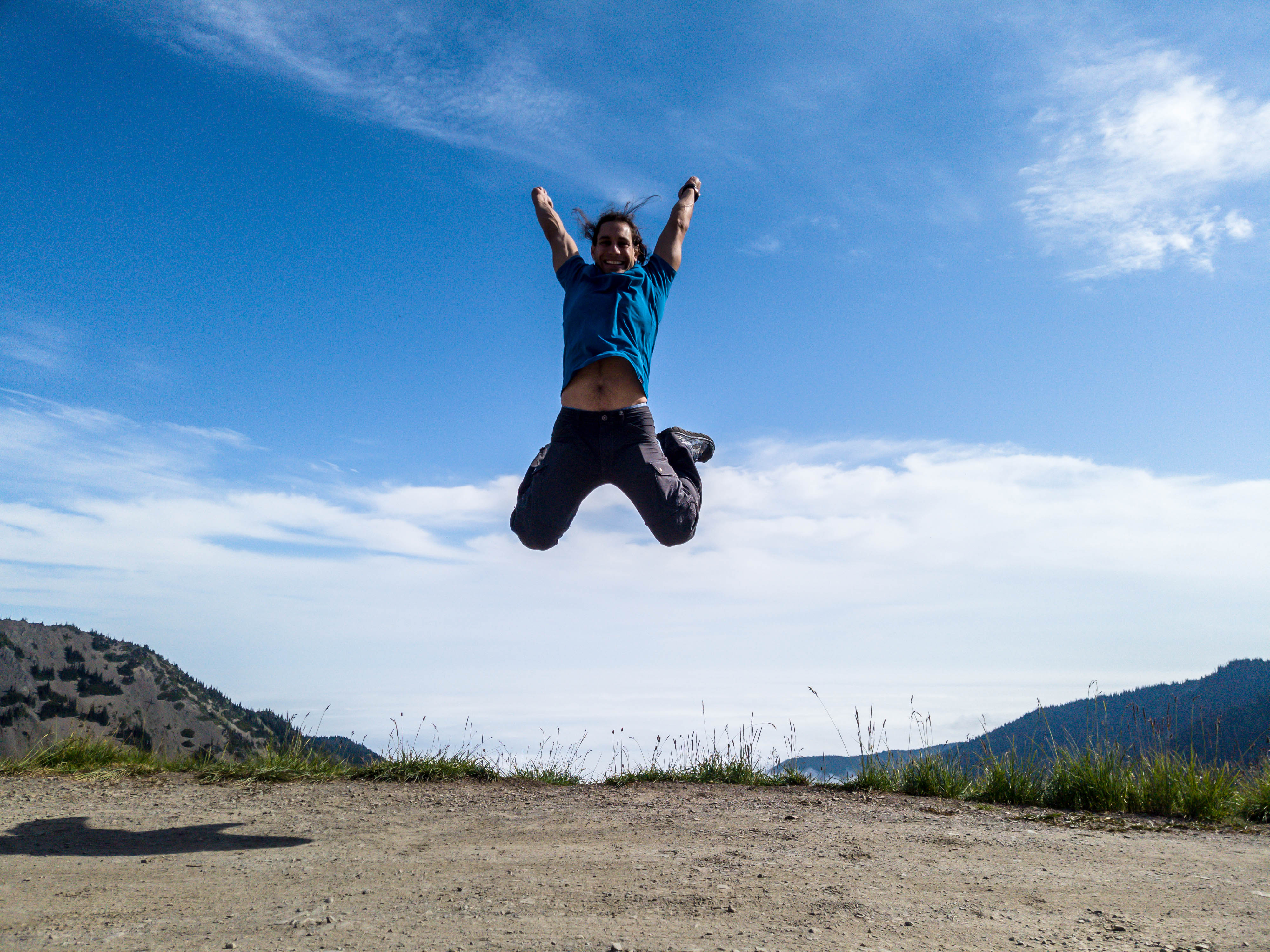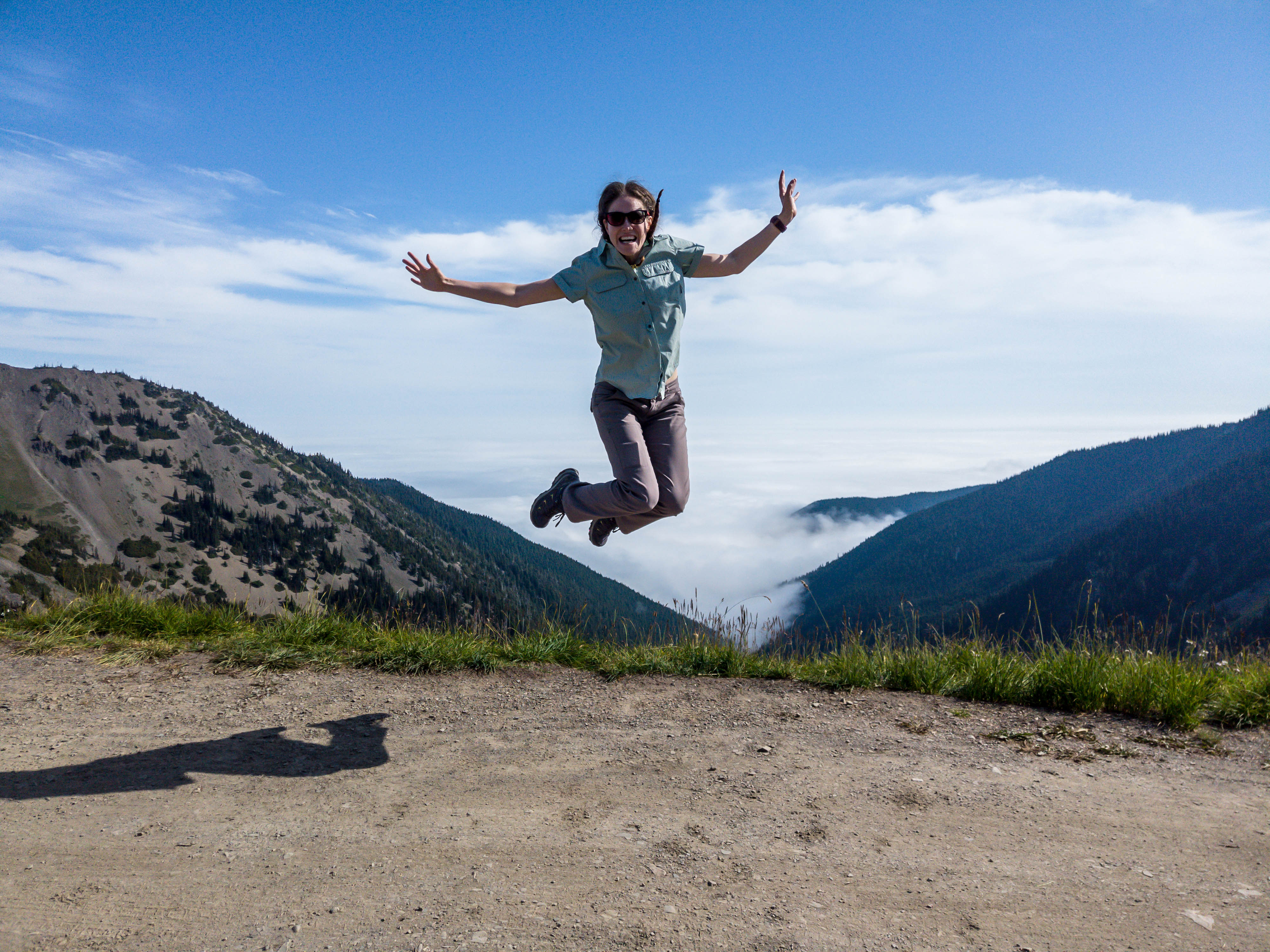 When it comes to exploring the Olympic Peninsula of my my beautiful state, I have not done that much venturing into Olympic National Park. When it comes to the Peninsula, I have been to Forks, Ocean Shores, a few port towns, and have even spent New Years on Shi Shi Beach, but as far as climbing mountains in the Olympics goes, I have few stories to share. I have a million excuses; mostly I'll say that it's because of the ferry rides and all that distance between myself and the Olympic Peninsula that have caused me to put little effort into enjoying this region.
While there were plenty of excuses that kept me from exploring new territory, it was not a lack of interest or curiosity to check it out, heck I would love to climb Mount Olympus sometime soon even! Regardless, the fact remained, I had not prioritized hikes in Olympic National Park, yet.
With that knowledge, it was my adventure partner, Erinn who decided to change this fact, for the two of us. Though a native of Washington, Erinn also has not spent much time in the Olympics. With the knowledge this is a place neither of us has explored, she took the initiative to plan a late summer, weekend trip for the two of us. I was stoked.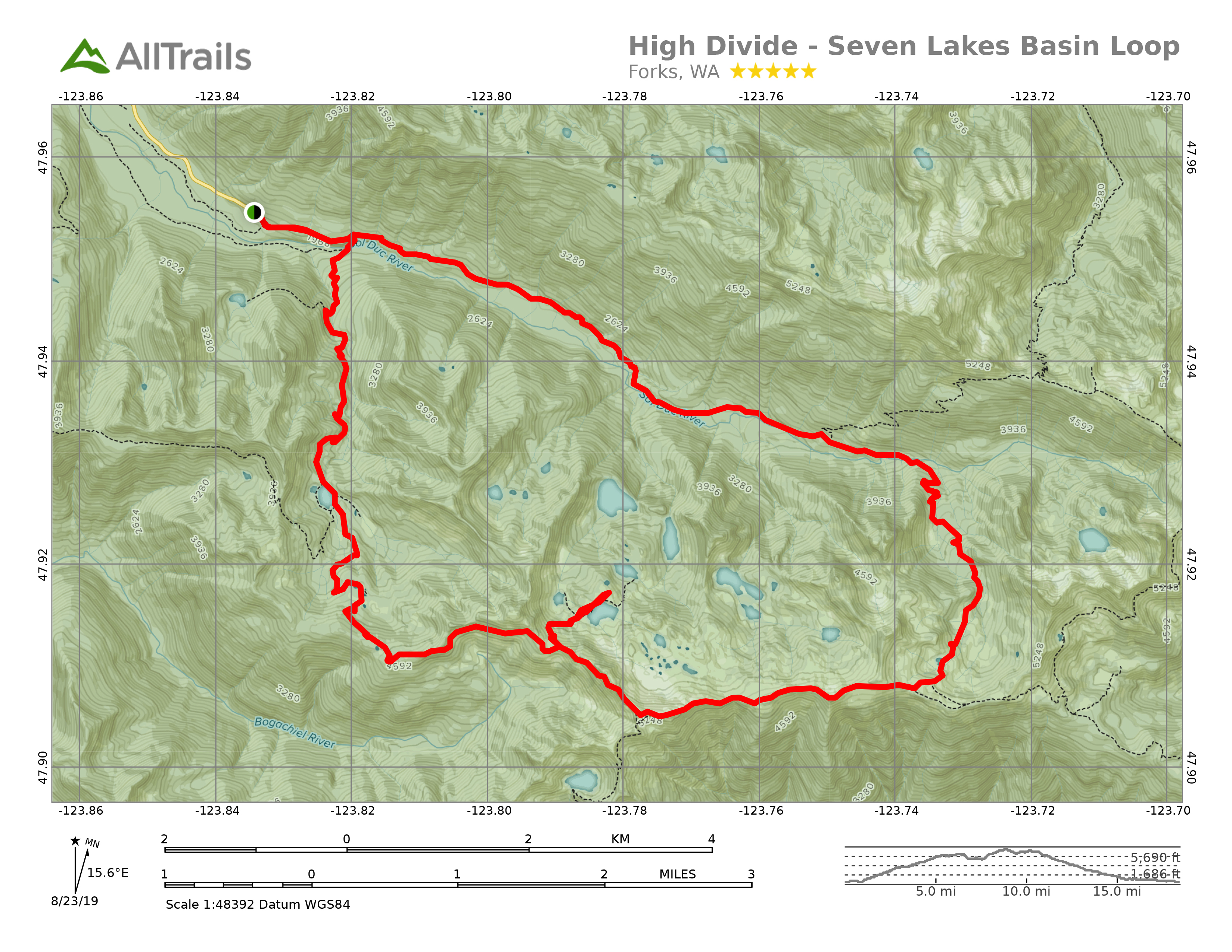 Our original plan was to explore the High Divide – Seven Lakes Basin Loop, which offers all kinds of great camping spots along the route. Unfortunately for us, there were only walk-up spots available and as it turns out, those walk-up spots get nabbed the 24-hours prior at the local Ranger Station located in Port Angeles. We were unable to be there a whole 24-hours before our trip, so we missed out on a walk-up reservation for a campsite. Of course, we had a backup plan so we decided that we would explore the Grand Pass Loop located in a different section of the ONP.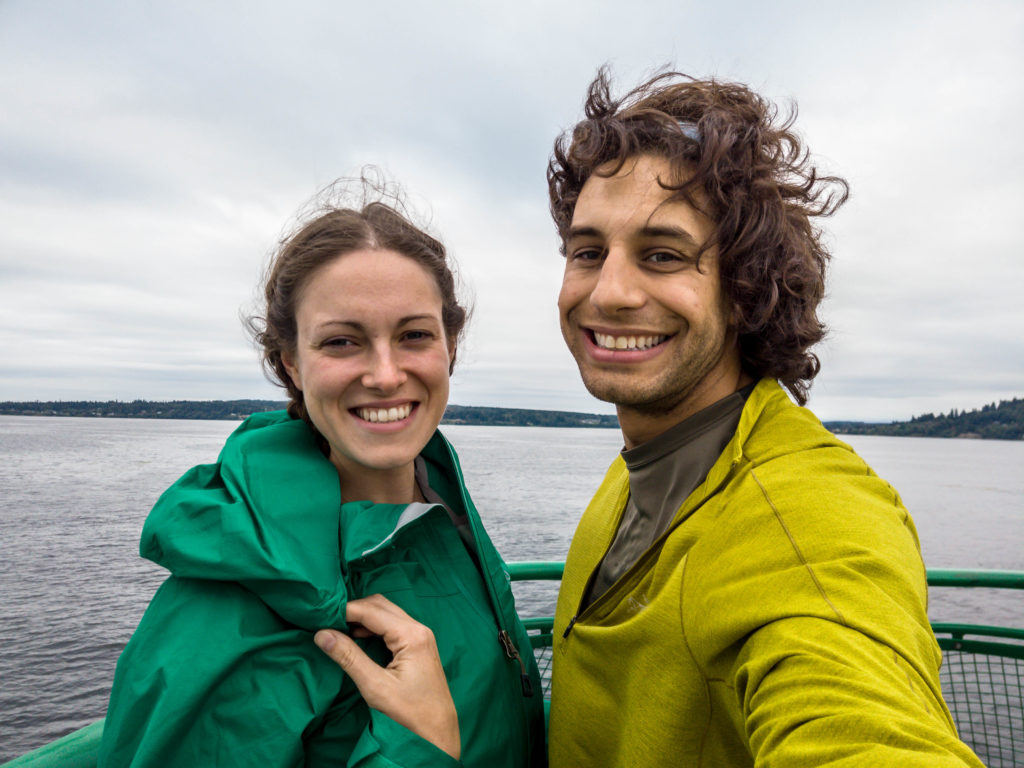 The plan called for two nights. We would arrive in Port Angeles on Thursday evening after taking the ferry over from Seattle and driving for a little over an hour and a half from the dock. There we grabbed dinner and found a safe place to park for the night near the Wilderness Information Center. With the comfort of Susan the Subaru, on our side, we were able to get a great nights rest. We slept in our Big Agnes sleeping bags with Q-Core SLX sleep pads with Susan's back row laid flat, creating the perfect bed platform for car camping. One of the main reasons I bought this Outback was because of this specific "feature." The ideal amount of roominess for any adventure comes standard.
The next morning we woke up and made our way to the trailhead for Grand Pass Trail which starts at the Obstruction Point parking lot. Since this hike takes place in a National Park, it requires a special entry fee or an America the Beautiful Pass to enter. Once you park and exit the metal enclosure of your car, you step out to a panoramic tundra with rolling peaks and a bright blue sky splashed with brushstrokes of white clouds. It was quite an enchanting site after driving up through the fog and out of the darkness. For the time being, we'd have delightful weather to make our trek to camp.
Speaking of delight, I was overcome with the emotion when I discovered Erinn planned a different route for us to make the trek to Gladys Lake. Instead of taking the standard course via the Grand Pass Trail, she wanted us to take an old use trail known as Lillian Ridge. This old trail acts as a ridge traverse to Moose Mountain leading to a descent that would guide us to our campsite at Gladys Lake.
"You can take this trail much farther than you'd want to take a budding hiker. Turn around while the hike is still fun."
We did no such thing; we continued where others would typically turn back or find an alternate route. Preferring to stick within her comfort level, Erinn took a lower path across some scree. While the course was inherently more accessible, it was taxing, and it forced her to take more steps than she would have liked. She moved forward one step every three as she carried on while I scrambled my way up and over the ridgeline. The very nature of this scramble had me taking my time and focusing on every movement. With 40lbs of backpacking equipment and gear packed away in my pack, I quickly acknowledged the reality that this might not have been the wisest choice for most to take. Nevertheless, I was confident enough in my skillset to tack this level of difficulty with the added weight.
Slowly and with a controlled effort, I made my way up the wicked traverse. As I neared the highest point, which was no more than 50 feet of ascent from the top, I grabbed onto what seemed like a decent and rather large chunk of shale; it appeared stable. I grabbed hold and started to exert the force necessary to pull myself up to the rockface. Yet as I went to pull myself up, and the entirety of the chunk shifted and pulled away from the face of the mountain. I quickly stopped my movement and regained control via my other three points of contact that secure me safely to the ridgeline. With control reestablished, I took a moment to catch my breath, laugh at the realization that this was my second taste of fear this year, and I was safe. That quick slip reminded me of the genuine dangers I faced as I made this traverse.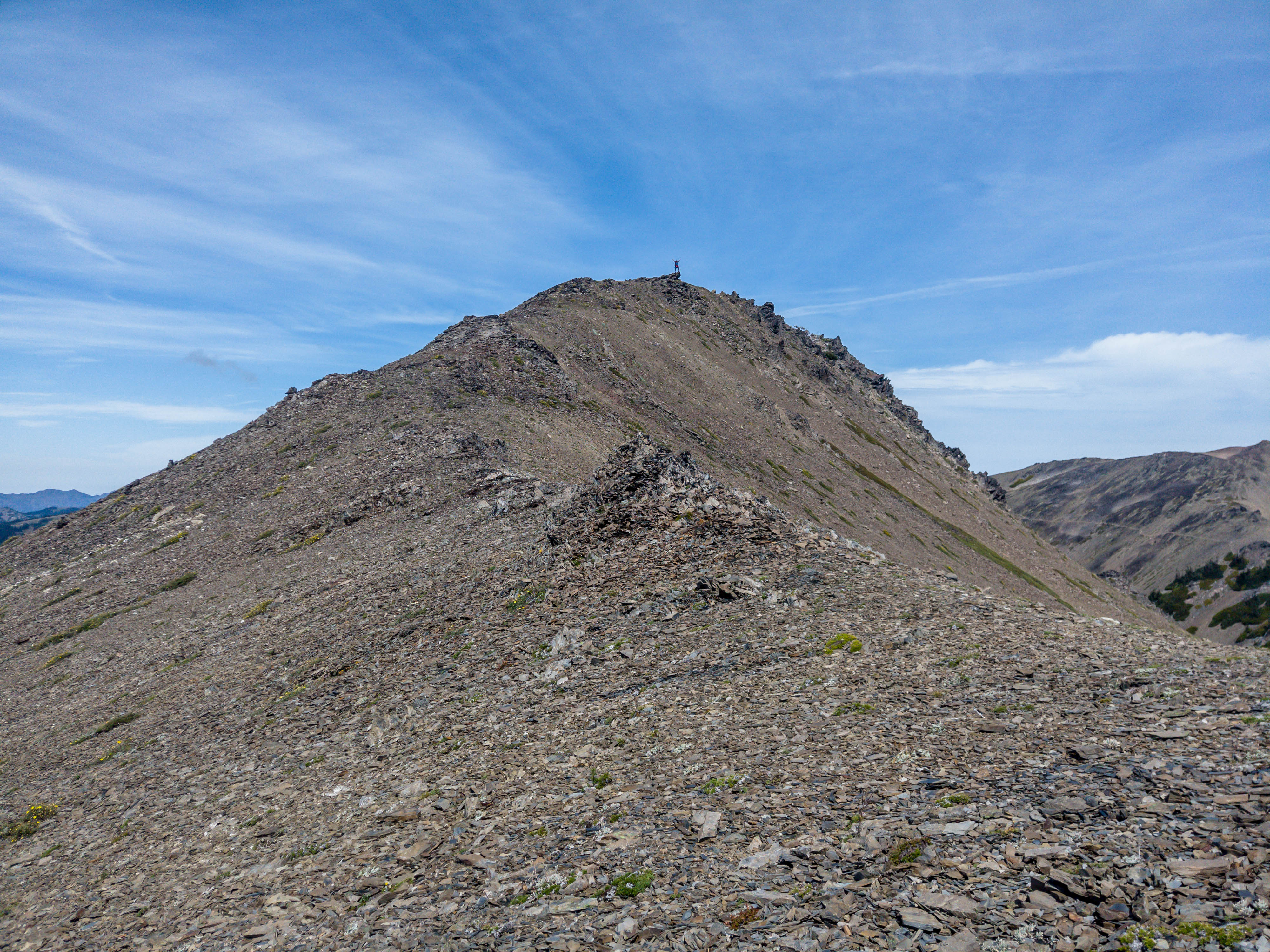 When I made it to the top, I could see Erinn below enjoying a snack on the saddle of this mountain and the neighboring peak. We enjoyed the endless views of alpine lakes and found ourselves doing a lot of route finding with a few sporadic cairns leading the way. It wasn't super easy to find, and we were both happy for having preloaded the weekend's routes in our Suunto watches. Erinn plotted the course, I only plotted the standard Grand Pass Loop, so it was her Suunto 5 that helped us successfully navigate Lillian's Ridge by using the route planner. We used my Garmin inReach and the accompanying Earthmate app to locate where we were on a detailed USGS Topo Map. We found that it helped us to stay on course.
While our hike in was incredible, once we set up camp, we were exhausted and ready to relax. Erinn set up camp while I coke some meals. I was super stoked to try the new freeze-dried backpacking meals I found while researching the possibility of starting a keto-friendly backpacking meal company. To my surprise and excitement, the business venture already existed, and Next Mile Meals was fulfilling a niche that I very much believed needed to be filled. I learned from my experience carrying a bunch of dense fresh food during my journey through The Enchantments that fresh food really adds to your overall pack weight, and it sucks. After that trip, I was determined to find a better way, whether it was buying or making my freeze-dried meals. I was going to find a way to cut down my keto-backpacking weight. With these meals, I was successful, and within 10 minutes, my Jetboil MicroMo had my Beef Tacos ready to eat.
When I took the first bite, I was blown away by the flavor; I'll go into more details in my review of all the Next Mile Meals. (Review coming soon). We enjoyed time at camp, taking in the beautiful sites, photographing a local fawn that kept checking out our campsite during dinner time and enjoying the smooth sounds of the streams and waterfalls that rushed through the valley flowing from Gladys Lake down to Moose Lake. Relaxation and a night to enjoy the sights. Depending on the weather, the next day would be determined. We planned to explore the area and possibly climb a few peaks.
Click Image to View Full Size
All night the rain came down. When we woke the next morning, there were still persistent intermittent showers that soaked our campsite. Unfortunately, our campsite wasn't as well-graded and flat as it appeared and we found ourselves in a puddle of water. While Erinn beat herself up about tent placement, I found myself realizing my ego had gotten the best of me.
For dinner the night before, I cooked an entire zucchini fresh from our upscaled garden on the back of my landlord's property and some Wild Salmon courtesy of Patagonia's Provisions food brand. If you're looking for a delicious meal, check out the salmon options from Patagonia. Talk about a fantastic way to end an exhausting hike!
What I don't recommend doing is bringing along an uncooked zucchini, it'll use all your gas! Let's be honest here, I was a bit stubborn and foolhardy and wanted to believe that the fuel I had left from The Enchantments was going to be enough to get two of us through an entire weekend. I let my ego get in the way, and the next morning, after I cooked breakfast, we ran out of fuel. Embarrassed, ashamed, foolish, I felt all those feelings. Had I not spent over 15 minutes cooking zucchini, I may have had made a safe judgment and had enough fuel to boil a dozen meals. Instead, we were out of fuel.
When it comes down to it, I was very thankful the weather situation forced us to reevaluate our stay at Gladys Lake. Now, we didn't have to rely only on our snacks alone to make it through the weekend, and I wasn't the root cause for an early departure. We had enough to get by; it just wouldn't have been very appealing or good for our gut.
When the weather cleared that afternoon, we quickly packed up our things, uncertain how long until the next shower. It wasn't awful weather, it was quite manageable really if we brought a double-wall tent instead of a single-wall and if we found a slightly less pooling area to set up the tent.
Once our gear was packed, we set out for our extraction from the valley below. We traversed the lakes that filled this valley floor and eventually began our ascent back toward the trailhead. On the way out we took the Grand Pass Trail back to the original trail we used to start creating a nice loop. On our way out, a sheet of clouds cloaked us from the blue sky, looking quite moody. After we ascended the 25 switchbacks that lead to rolling stretch that descends back to the parking lot we found ourselves breaking out of the clouds and it was super cool to see them dissipate and disperse all around and below.
We had a great time exploring Lillian Ridge and Grand Pass Trail and genuinely savored in the beauty of our first Olympic National Park backpacking trip. Next time, we plan to come back and spend more time exploring. We will be better prepared and ready for adventure! I highly recommend checking this one out, it's as challenging as you want to make it and has a little bit of something for everyone.
Have you been out to Lillian Ridge or Grand Pass Trail?
Tell me about your adventure in the comments below!
???‍♂️ My Strava Data

??‍♂️

?
---
Here you can view my Strava data from the trip. We both forgot to start our watches on the trek out so the actual distance should be about a half mile longer.