Event Name: Terrain Race
Event Location: Evergreen Speedway, Monroe, WA
Event Date: August 4th, 2019
Event Website: www.terrainrace.com
A Racer's Video Recap of Terrain Race – Seattle
Gear List
---
When it comes to obstacle course races, especially ones that are as short as a 5K, I don't really need much for these events. Just my shoes, a pair of shorts in the warm summer months, and maybe a headband to keep my flowing locks out my face. That's it really. As far as the actual race goes.
When it comes to being prepared for post race mud and muck. I keep this fairly simple too since they have showers at this event. I shower off really good to start, and by getting there early and running the first heat, and even after another 40 minutes for a second heat the lines weren't too bad. If you got there later in the day, it was a different story. As they always say, the early bird gets the worm or in this case, doesn't have to wait in long lines. I brought a few items for post race clean-up.
Outdoor Trashbags 40 Gallon (this massive size was completely unnecessary but it's what I had left over from the SISU 24 PNW event)
Bath Towel
Note: Longer Obstacle Course Races or OCRs, will require much more gear and I will always detail that gear when I write about those types of events. For this event, it's simple.
Terrain Race – Seattle 2019 Race Recap
When you see an advertisement for a free race, it catches your eyes quite quickly. A few months back, I was scrolling through Instagram looking at my typical feed of fitness "influencers" and obstacle racers that I know from my time at Spartan, posts from Kilian Jornet, all kinds of outdoors and mountain images and destinations that give me all kinds of FOMO, and then there was some copy for a Terrain Race ad that caught my eye. Now, this Terrain Race ad wasn't the one that features me running the OCR Warrior Course at an old 2014 Terrain Race, after seeing it all year I became numb to it. Actually, it wasn't even a memorable image, it was your standard mud run image.
Those magic words "FREE REGISTRATION" right there in the headline were the ticket to pique my interest.
FREE REGISTRATION?!
What's the catch, am I right? How can an obstacle race afford just to give away free registrations? It seemed a little baffling, really. Nevertheless, it had been a long time since I competed in an obstacle race, and I had been wanting to get muddy again, so I figured why the hell not and I clicked the link to sign up.
As I went through registration, I found that it was, in fact, free to register. Of course, there was a processing fee and an insurance fee. The costs don't bother me though, those fees are always expected. These fees do not feed the race organization, these fees go straight to the insurance and payment processor. That's how every event works. Those fees are always separate from the race registration itself. So with a race registration costing only $20, I shared it to some friends to see if anyone wanted to join.
Come race day, my roommate, Adam, and my girlfriend, Erinn were the only two out of the 10+ people I was able to convince into signing up for the event still expressing interest in joining me.
RACE DAY
Sunday morning we headed out to the Evergreen Speedway for the 5k Terrain Race, we would be running in the first wave at 7:30 AM. Now, there was a time when Terrain Race had timing and competitive heats, currently this company is in the process or some rebranding and rediscovery as to where it sits in the world of obstacle course racing. After talking with some of the workers, it sounds like competitive heats are spoken about often, so who knows maybe they'll bring that back.
Regardless, I went into this event with the intent of running in the first wave and seeing how I'm doing now that I'm over 9 months post hip surgery. Once I finished running the event, I would run a second lap with my girlfriend so we could enjoy the experience together.
While the venue was a little lackluster, the Terrain Race team still managed to offer a variety of "terrain." Even though the race took place on a race track, the organizers found plenty of terrain surrounding and in the middle of the racetrack to utilize. There was a fair amount of gravel and grass mixed in with all the pavement, my archnemesis, that made up the majority of the racecourse. I was happily surprised to find myself splashing around in a puddle of mud, just like back in the good ole' days when I was racing professionally in all kinds of obstacle races.
For the first wave, they sent a human rabbit to run ahead of us to show us the course. I felt terrible for this guy, you see the entire crew had to wait until after 10 PM the night before the race to set up the course because the racetrack was being used until then. This guy was exhausted from working all through the night, but here he was trying to run as fast as he could to lead us through the course. There was a cluster of about six of us at his heels.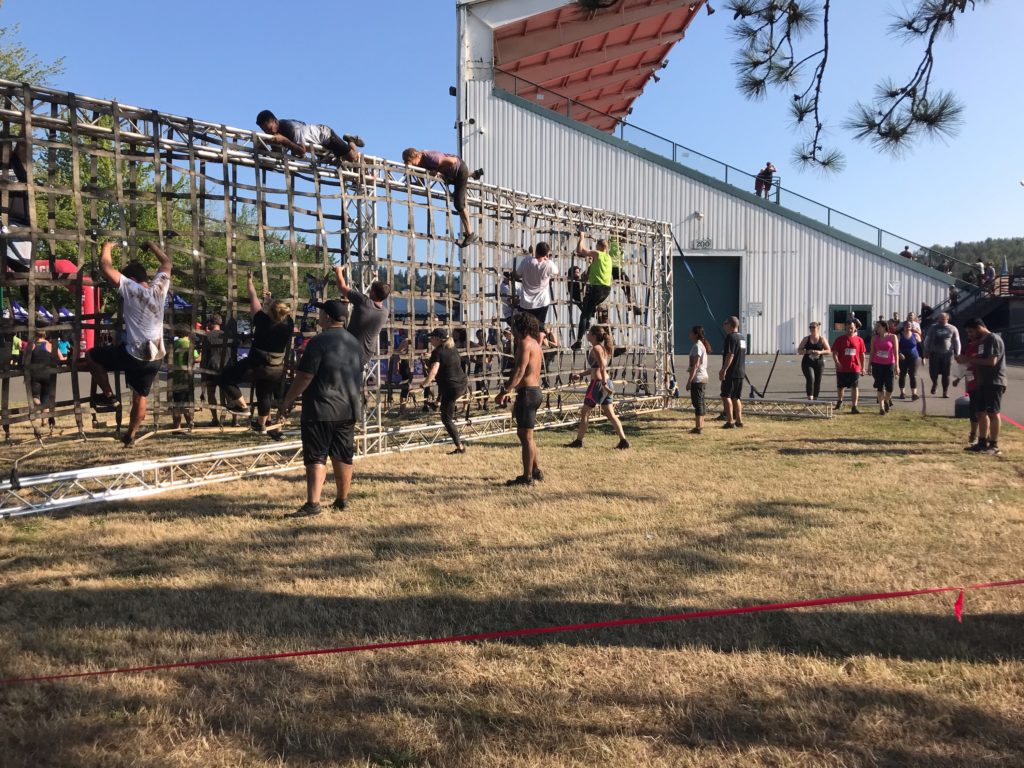 The obstacles were a massive upgrade from last time I was at one of these events 5 years ago. Now, almost every single build look like that of the big leagues, metal truss, multiple lanes, the only thing that seemed to be lacking was enough stones with chains for the tractor pull style obstacle and possibly enough sandbags. Both easy fixes.
Somehow after battling all the obstacles and terrain that was set before me, I found myself struggling almost the entire race to hold 2nd place. Then when we hit the multi-rig obstacle riddled with all kinds of fun objects to hang and swing from, I found myself exiting the obstacle with only the rabbit running side-by-side. At that obstacle, I overtook the leader and left him behind and the others that were right on my tail.
For the last quarter mile, I wouldn't have anyone in my sights, my gap was established, so I pushed myself to run just a little faster. After all, I strategically saved as much energy in my reserves as I could since it had been so long since I had done one of these I didn't want to gas out early on. Turns out those reserves were all I needed to secure myself as the first person to cross the finish line after coming through the rope climb and vertical cargo climb. For the first time ever, I won a race. Sure, there were no timers, and no one was watching obstacles, and there weren't penalties, but that didn't matter. What mattered, at least for me personally, as I went out and gave it my all and found myself crossing the finish line, first. It was such an excellent feeling.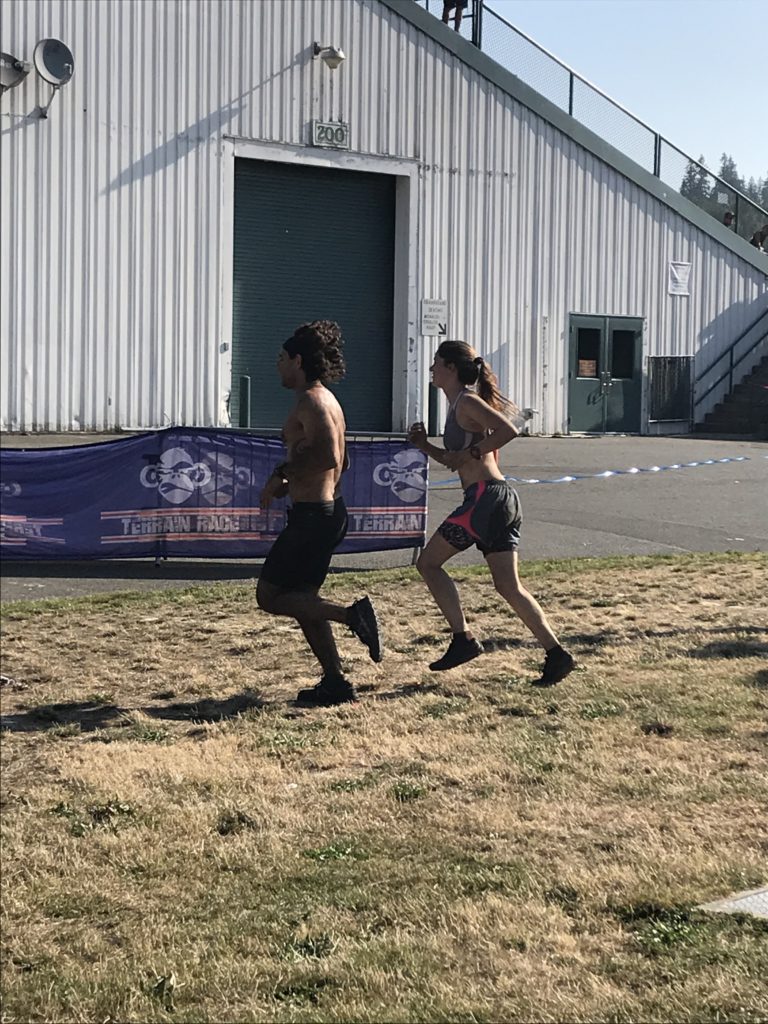 After that, I ran another lap with Erinn and then we hung around for a little bit enjoying the fun we just had together.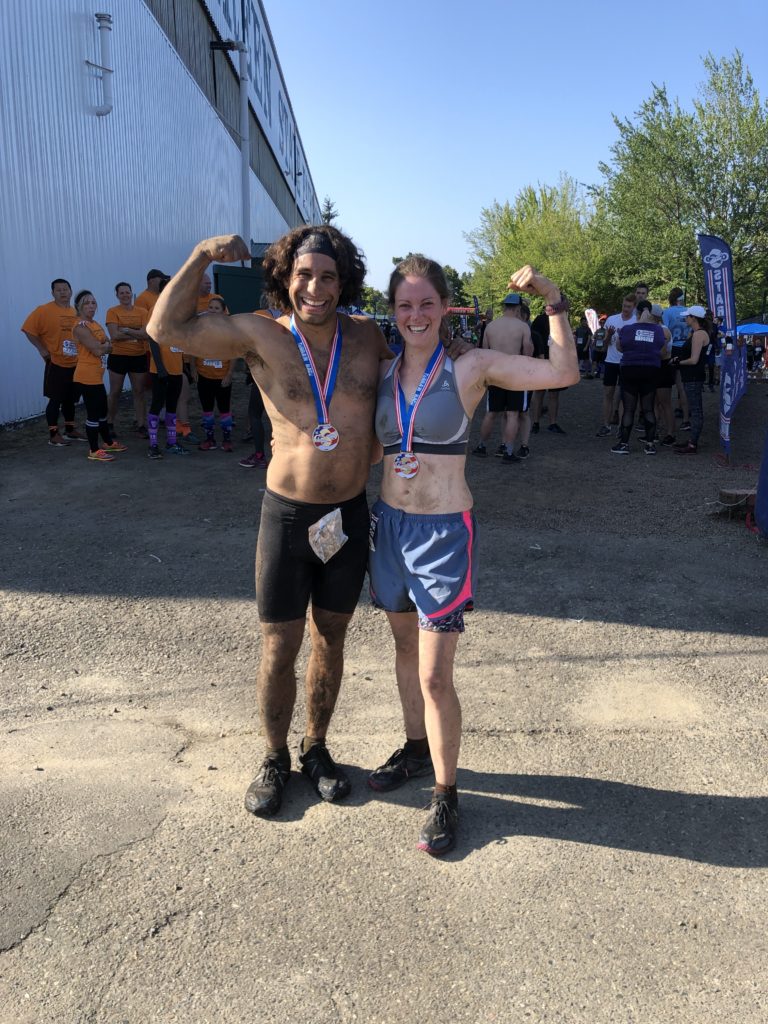 Event Ratings
---
Venue – Rating: 2/5

The site was a little lackluster, but the event organizers did a great job making the best use of what they had. This organization reuses locations for other events and has expressed that this was not their favorite venue and they will be looking for another for 2020.


---

Festival – Rating: 3/5

There was music, but only a couple vendors, showers were available though in a limited quantity, if you ran early, you were able to get in and out quite quickly. Heck, I ran the race twice and was out of there before 11 AM.


---

Parking – Rating: 5/5

One of the most accessible venues to park in since there were existing parking areas. Two options were available, free parking that required walking under a tunnel to get to the site, or parking on the same side of the road as the event for $5. Pretty notable when you consider how the Spartan Race and Tough Mudder charger no matter what.


---

Cost – Rating: 5/5

While the folks at Obstacle Racing Media may think this is the Spirit Airlines of OCR, I think they've got one of the best most appealing models around right now. They basically give away the registration to get people to come to experience the fun of the event and make additional revenue on other things like food and merch and so on. At the end of the day, I spent less than $50 to have an awesome morning. If I went and ran a Spartan or a Tough Mudder my pocket would be another $200 lighter on top of that first $50 cuz you know, parking, spectators, and everything else that is charged at a premium cost. Do OCRs really need to be expensive? I think not. This is the best race for someone looking to dip their toes in the world of obstacle racing.


---

Obstacles – Rating 4/5

The obstacles are fantastic; honestly, it felt like I was at a Spartan Race without all the branding every ten feet.


---

Course Marking – Rating 4/5

The course was well marked though there were indeed areas that could have been marked to make things a little clearer, it was pretty obvious where you were supposed to go.


---

Swag – Rating 4/5

I didn't expect anything considering I paid nothing for this race, somehow though I still found myself with a medal and a t-shirt at the end of the event. Now, could the shirt be a better material, sure? Color, absolutely. Grabbing a white t-shirt with muddy hands at the finish pretty much guarantees that shirt won't ever look that white again. Considering the race was "free," it's pretty awesome.


---

Overall – Rating 4/5

Terrain Race has come a long way, in large part because of the acquisition by Cool Events, but also because they have some really great people driving the ship now. Many who are involved at Terrain Race currently, have a lot of experience in the obstacle industry, and they have told me they are looking to shake things up. If I were you, I'd keep my eye out and sign up for the next Terrain Race near you.
---
BOTTOM LINE:
This race isn't going to be as big and flashy as some of the other larger competitors, but it is a fantastic, inexpensive introductory obstacle course race. So, if you keep trying to get the squad to sign up for Spartan or Tough Mudder to no avail and the complaint is always about the price, perhaps you can suggest a Terrain Race first. Allow them to get an idea of what these experiences are like before coughing up the big bucks. Terrain Race is like the new gateway drug to OCR with Warrior Dash out of the game.